Ready access to customer intelligence and insight
Customer intelligence and insight at your fingertips, without leaving your email, calendar, and contacts.
Schedule your demo today
Access Your Client Contact Data
Turn your firm's valuable client data into relationship intelligence
Coordinate Your Marketing Efforts
Get a complete picture of your firm's opportunity pipeline
Turn Your Pursuits Into Wins
Use a holistic view of your business development activities
Maintain Your Relationship Data
Deliver in-depth insights that can help your firm grow
InterAction is the de-facto Enterprise CRM solution for professional services. InterAction proved to be the best fit for the unique challenges of our thriving organisation, especially as we hone our business to meet the needs of our clients.
InterAction raises CRM to a new level with actionable, accurate relationship intelligence.
- Captures and tracks the key touch points of daily working life and aggregates your
firm's client data covering matters, profiles, notes and activities to form a more
complete relationship picture
- Identifies cross-selling and client service opportunities; prepares contact lists for
mailings and invitations; tracks development activities for events and campaigns
- Identifies subtle interrelationships among clients and prospects; determines
which others in the firm are familiar with your contacts and the nature of the
relationships

Strengthen Your Business
LexisNexis InterAction provides the tools you need to maximize the potential of your relationships.
- Combine firm-wide client data – such as profiles, work undertaken, notes and
activities – and transform it into relationship intelligence
- Understand the complex connections between people, companies,
relationships, experience and expertise
- Use those insights to increase loyalty, cross-sell more successfully, maximize
referrals, market more effectively and grow revenue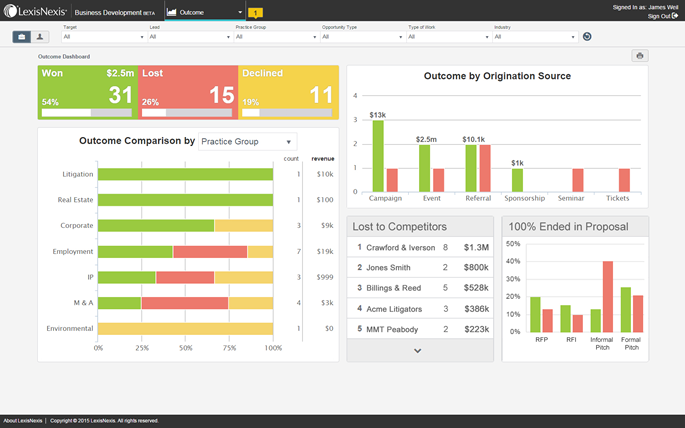 Retain Clients. Win New Business.
Discover, manage and leverage relationships to retain clients and win new business. Most firms are planning to grow in 2016 – see how InterAction IQ can help your firm thrive in a competitive environment.
InterAction
Training and Resources
Start your free trial
Schedule a demo
Get pricing
Sign up for a free consultation