A Scalable Solution for Your Legal Department
The Enterprise Legal Management solution that covers all of the bases for in-house counsel.
Schedule your demo today
Paying TOO MUCH for Outside Counsel?
Find out in the latest CounselLink Enterprise Legal Management Trends Report.
Download the Report
Comprehensive e-billing and budgeting that makes every dollar count
Leverage Your Valuable Data
The right tools to capture the details and turn your data into actionable insights
Ignite Collaboration Over Your Legal Matters
Build confidence that the critical work of your legal department will have the best outcomes possible
Improve Your Decision
Making
Align legal department efforts with business goals and achieve better outcomes
CounselLink is a powerful software system that is bringing significant efficiencies to our law department. The use of CounselLink in multiple areas will allow us to manage the growth of our legal department's needs without adding significant internal overhead.
With LexisNexis® CounselLink® you can:
- Gain control with 100% visibility over matter status and legal costs
- Collaborate more effectively with corporate stakeholders and outside counsel
- Expedite invoice review and processing with e-billing practices and automatic
adjustments to match billing guidelines
- Execute legal-hold notifications quickly and with confidence
- Leverage insightful reports and analytics to assess internal and outside counsel
performance, identify opportunities for improvement and view department trends
Choose the right matter management tier:
Essentials - A full-featured offering that helps simplify processes, monitor outside counsel compliance, eliminate manual invoice processing and gain insight into all matters.

Advanced - Advanced package to configure solutions that fit business processes and gain improved reporting and corporate systems integration.

Premier - For the most complex market and operational situations – such as managing multiple departments and using specialized workflows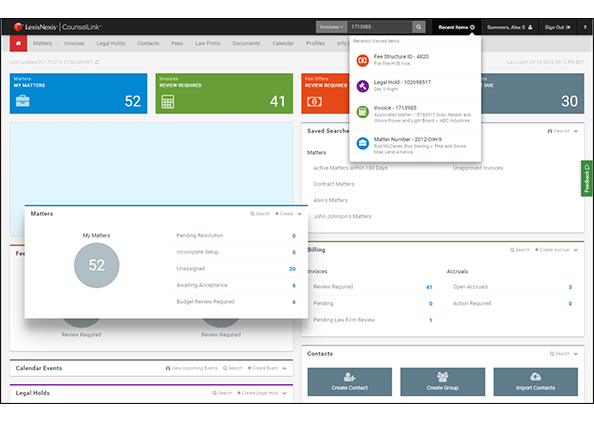 Find out how CounselLink can help your law department improve its matter management capabilities, risk-free. Schedule a customized demo today.
A Better Way
Manage all of your matters, spend and risk from one central information repository and get control over the key elements that drive legal department results and outcomes.
CounselLink
Training and Resources
Start your free trial
Schedule a demo
Get pricing
Sign up for a free consultation