Your Trusted Financial Management Partner
Gain the in-depth insight you need to measure and improve your firm's operations and profitability
Schedule your demo today
Your law firm's finances, simplified
Manage billing, accounting, travel & expense and more in one streamlined financial management solution
Does the work so you don't have to
Spend less time creating and updating billing and accounting reports
Data-driven financial management
Gain insight into billing and accounting processes
Focus more on what you do best
Improve decision-making with reports and dashboards that help you align your efforts with strategic business priorities
They helped us increase the efficiency of billing. Now bills go out...earlier than they did before, and the time descriptions include more information. And, of course, the earlier the bills go out, the quicker we get paid.
A trusted financial management solution used by over 1,700 law firms nationwide
Juris®, helping law firms for over 30 years, brings law firms savings through efficient accounting and billing management, while reducing the overall time spent on collections activities. Largely used by legal administrators, Juris streamlines payables and accounts receivable, while giving detailed reporting insight.
Juris is a great fit for any law firm looking for:
A solution to malpractice worries around mishandled bills and trust account issues
Ways to find more efficiency and translate those gains into more billable hours
More insight into billing and accounting processes
See What's New:
Juris 2.8.3 - Now Available!
The most widely used legal financial management software in its class is going even further to make your work life easier. The latest release of Juris® software is available now.
More stable, more powerful, and featuring improved navigation, Juris 2.8.3 delivers even more functionality and value for your firm's billing, accounting, and reporting.
What's New in Juris 2.8.3
Over 35 individual enhancements focused on billing and accounting.
50 updated financial reports, optimized to help you better analyze accounts receivable, accounts payable, unbilled expenses, bank reconciliations, billing data, and more!
Juris 2.8.3 delivers even more ways to chart your firm's financial future. Contact us for more information or to schedule your upgrade today.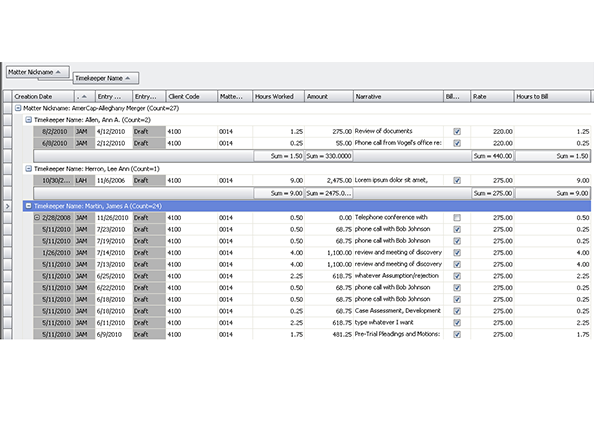 See How it Works With a Free Demo!
See how easy taking charge of your firm's finances can be with a customized Juris demo!
I Love Numbers
I'm about looking further into the numbers...
Analyzing them. Studying them. Knowing them. I am Juris financial management software from LexisNexis.
Juris
Training and Resources
Start your free trial
Schedule a demo
Get pricing
Sign up for a free consultation