Bill Twice as Much in Half the Time with PCLaw
More than 15,000 law firms nationwide get paid faster by using PCLaw® as their all-in-one billing and accounting solution.
SCHEDULE YOUR PCLAW® 15.4 DEMO
Your law firm, at a glance
Solve the problem of wearing multiple hats with the leading all-in-one practice management solution.
Reduce wasted time from researching and managing matters, documents, calendars, bills and accounting
Take charge of your firm's finances
Prevent malpractice suits with accurate billing and thorough financial reports
Say goodbye to calendar worries
Stay ahead of deadlines and appointments with integrated calendaring
PCLaw 15.4 – Now Available!
PCLaw 15.4, the latest release of PCLaw, is now available! The time has never been better to find out why over 15,000 law firms rely on PCLaw to manage their total practice management needs. Get PCLaw 15.4 today and start realizing the savings of a more efficient law firm.
Buy Now Upgrade to the Latest Version


*For existing PCLaw customers, please contact PCLaw Support at 800.387.9785 to upgrade your software.
Trusted by more than
15,000 law firms
PCLaw is pre-configured to get you up-and-running quickly, and can be customized to meet your firm's unique needs. And with more than 50 standard reports, you'll get critical insight into your most vital processes and performance.
PCLaw helps you:
Say goodbye to malpractice worries around missed appointments, mishandled matters and billing/trust accounting issues
Find more efficiency and translate those gains into more billable hours
Stay on top of matters, documents, calendars, billing and accounting with an easy, all-in-one solution
We were able to bill 50% more than the year before. And I give credit for most of the increase in revenue to PCLaw."
Manage your billing and accounting with ease
Manage and time vendor payments to improve cash flow. Write and print checks from trust or general bank accounts for client or firm expenses. Keep accounts in balance with reconciliation tools. Quickly identify clients with outstanding balances to prioritize collection efforts.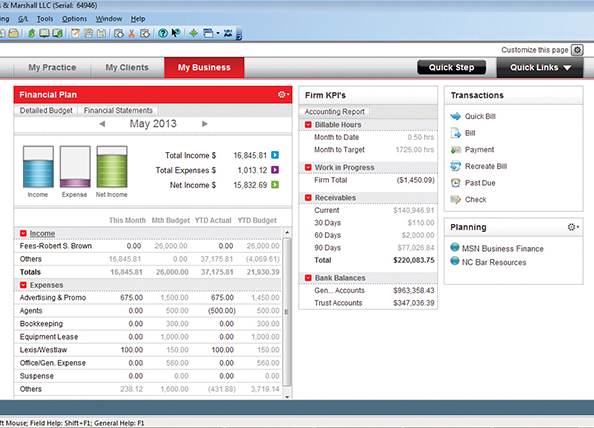 PCLaw Dashboards.
PCLaw dashboards work the way you work and think: visually, with a lawyer's-eye view of what really matters. No need to open a bunch of folders, or flip back and forth between screens.
PCLaw
Training and Resources
Start your free trial
Schedule a demo
Get pricing
Sign up for a free consultation