Upgrade to CaseMap Professional Free
when you buy
CaseMap Basic Plus
*Offer valid for new customers only.
Request a Demo
Put all your case facts in one place
CaseMap helps teams of all sizes gain collaboration and insight, thanks to its ability to host data on a central server.
Link all of your data together
CaseMap displays your data visually, so you can get case insight faster and find connections you may have otherwise missed.
Made for teams to streamline workflow
CaseMap helps teams of all sizes gain collaboration and insight, thanks to its ability to host data on a central server.
Lexis Advance integrates with CaseMap
With a right-click, your downloaded research stays just as live, searchable and organized as how you found it.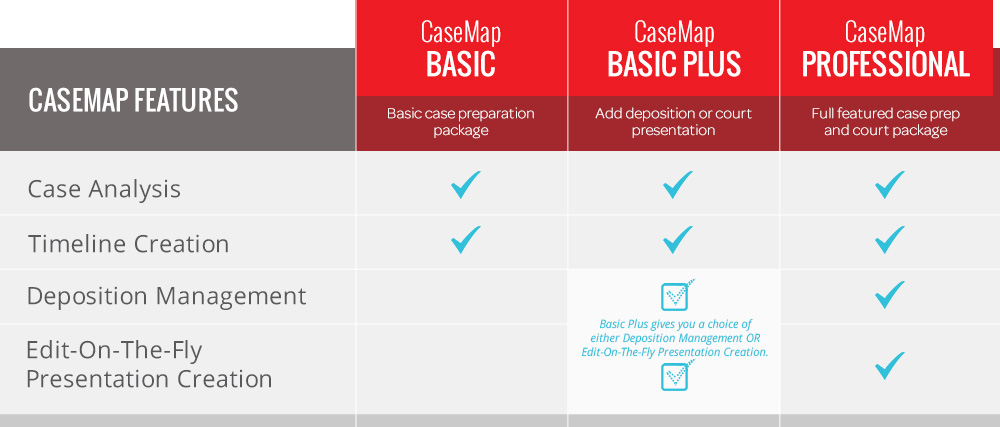 CaseMap enables the entire litigation team to organize case information, pull out important facts and share the information with entire team so everyone can get up to speed quickly.
CaseMap Simplifies Your Litigation Evidence

(and does more with what's left)
Simplify your workflow - CaseMap takes a pile of unorganized facts and helps you methodically transform them into a tidy matrix of relevant ones.
Crack that case - CaseMap displays your data visually and spatially, so evidence patterns and connections others can overlook are easy to spot.
Perfect for teams of all sizes. - Team members can work on a case concurrently when the case data is hosted on a central server, which helps get case insight faster.
Capture, organize and share case knowledge with CaseMap 12.1
Comprehensive case-wide searching, which can encompass your entire CaseMap case, as well as the attached documents.
Bulk importing and optical character recognition (OCR)

Customized spreadsheets

Enhanced reporting

Microsoft® integration

Tools for real-time collaboration

Accomplish tasks, search case data, and find help quickly with Smart Assist

New eDiscovery features let you redact, code documents, and produce all within a single solution

SQL capabilities* enabling litigation teams to work on CaseMap cases simultaneously and securely across your local area network
Plus, the CaseMap DocManager feature provides a single interface for you to view, annotate, hit-highlight, Bates stamp, batch print, and batch convert files to PDF and TIFF.
Try a 30-day full version of
CaseMap today!
How can CaseMap related software tools help you succeed? See for yourself. Our free downloads include fully functional trial versions that work for 30 days following installation.
CaseMap 12.1
In action
See all of the new features of CaseMap 12.1 in action, including CaseMap's DocManager, which now allows you to review and annotate documents and images without having to open the source file in its native application. You can also redact, produce and conduct eDiscovery, eliminating multiple tools from your everyday workflow.
CaseMap
Training and Resources
Schedule a demo
Get pricing
Sign up for a free consultation