Legal transcription software that links testimony to key issues fast
It's time to take your case analysis further.
Manage and analyze your case data with ease using the CaseMap Suite.
SCHEDULE A DEMO
The most cost-effective transcript tool available
TextMap is available at just a fraction of the cost of other transcript-summary management tools.
Make an impact while being efficient
Link multiple exhibits to transcripts and use synchronized video in the courtroom for a truer sense of the testimony given.
Gain insight, faster with powerful search tools
Powerful search features, and indexing help you summarize transcripts and uncover the strengths and weaknesses of testimony.
Intuitive and easy to use from day one
With a simple, straightforward design and navigation, you can get up an running on the software in minutes with no training.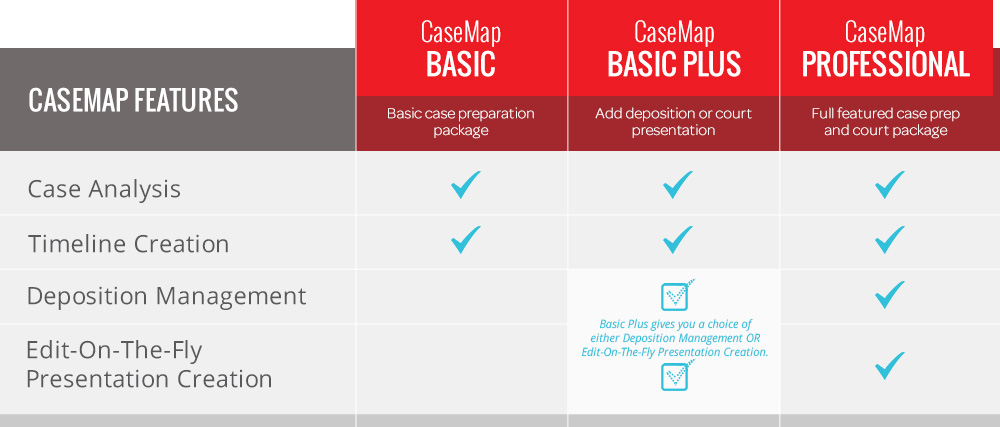 Then I show them TextMap, and its ability to link testimony with issues and then generate reports, and they quickly become converts.
Get more done with fewer clicks
TextMap has always been a time saver. Now, TextMap 9 makes it easier than ever to manage complicated transcript tasks so you can spend more time on what's important. You'll edit annotations faster, create reports faster and more.

It's simple. Just import a transcript, and your litigation team can easily search, summarize, annotate, issue-code and attach notes to important passages of case testimony.
TextMap 9 provides several new features, including:
Additional video clip export options
A clipboard option to include the citation source when copying transcript text
The ability to bulk link new or existing exhibits to selected transcripts
A redaction tool to protect confidential and sensitive information
Annotation capabilities, including partial lines
The ability to import PDF transcripts
TextMap

integrates with CaseMap case analysis software

Advanced CaseMap integration helps you perform critical assessment of all facts, issues and case law.
Annotate a transcript and send your annotations as facts into CaseMap for analysis in the context of other case facts.
Add new issues in CaseMap and import them into TextMap.
Include linked CaseMap facts when you generate TextMap reports.
Share linked documents and exhibits between CaseMap and TextMap.
With deposition video synchronized to your transcript, you can get a truer sense of the testimony. Now, that's impactful.
Try a 30-day full version of
TextMap today!
How can TextMap help you succeed? See for yourself. Our free downloads include fully-functional trial versions that works for 30 days following installation.
TextMap
Training and Resources
Schedule a demo
Get pricing
Sign up for a free consultation