Risk

>

Anti-Bribery and Corruption
Your company depends on its reputation. Don't let a compliance failure be your downfall.
Navigating a world of anti-bribery and corruption regulations is tricky. It's up to you to get it right.
How many third-party relationships does your company have? If you're like most businesses, you probably have an ever changing number of relationships, spread around the globe. Continually evolving regulations and a lack of clear guidance further complicate your ability to confidently manage your compliance program.
LexisNexis® Risk Solutions can help. Built on a foundation of nearly 20 years of building successfully defended programs for customers in highly regulated spaces, our Anti-Bribery and Corruption solutions deliver the insight, tools and resources that yield effective risk assessment and mitigation.
Out from under the table — and on the radar
Any connection to a bribery or corruption scandal — real or perceived — can severely damage your company's reputation, operations and perhaps most severely, employee morale1. Business relationships must be continuously vetted and monitored to ensure compliance with anti-bribery and corruption regulation. It might seem overwhelming, but the potential fallout from a failure to comply can be even more so, considering the $1.5B in civil penalties imposed in 2014 alone for violations of the Foreign and Corrupt Practices Act2.
LexisNexis brings together robust data sources, comprehensive risk indicators and efficient workflow to help you thoroughly assess risk, conduct due diligence and monitor relationships on an ongoing basis.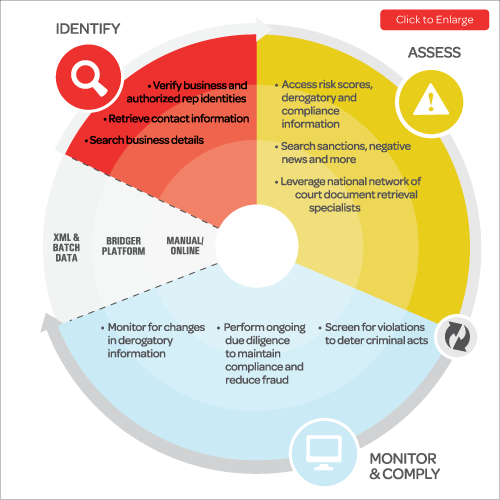 Step 1: Identify
The first step in any successful compliance program is knowing who you're doing business with. Access over 500 million consumer identities and more than 1 billion business contacts to confirm individuals and businesses are who they say they are. Then using Bridger Insight® XG, powered by LexisNexis® WorldCompliance™ Data, learn more about those third parties and assess those that might pose additional risks. For example, quickly uncover politically exposed persons and relatives, state-owned/connected entities, and more.
Step 2: Assess
Dig deeper based on your risk appetite as a business, the perceived risk of the individual or entity and nature of the relationship. Activate LexisNexis® Business Assurance Report, Business InView and Business Risk and Compliance Report to screen businesses, PEPs and other third parties against a comprehensive collection of sanctions, enforcement, and adverse media datasets. Also, leverage our integrated compliance reporting, auditing and workflow capabilities — and maintain detailed books and records as an audit to share with auditors and regulators should it ever be needed.
Step 3: Monitor and Comply
Businesses change, and so do people — which means you should never rely on one-time assessment. Bridger Insight XG with World Compliance Data keeps you apprised of shifting sands through synchronized screening and continuous monitoring of third-party activity and records. Get clear notifications that help you keep up with an ever-changing information landscape, including sanctions, changes of status or circumstances, adverse media and more, to remain both compliant and risk aware.
Count on LexisNexis® Risk Solutions as your single-source partner in maintaining a world-class anti-bribery and corruption compliance program. We've helped 4,000 other businesses successfully implement — and proactively defend — rigorous compliance actions. Allow us to do the same for you.
1 "Firm Competitiveness and Detection of Bribery," George Serafeim, Harvard Business School, with data from PricewaterhouseCoopers 
2 "2015 A Record Breaking Year," Erica Salmon-Byrne, NYSE Governance Services, www.nyse.com/corporate-services/nysegs/hot-topics/global-ethics-compliance/2015-a-record-breaking-year
Identify
Business ID

Verify the identity of the business & authorized rep.

Find a Business

Manually confirm business exists and retrieve contact information.
Access
Business InView Report

Access risk scores and derogatory information.

Business Risk and Compliance Report

Access risk scores, derogatory and compliance information.

Business Risk Document Search

Access unstructured information like negative news, government regulatory files, sanctions, and more.

Business Assurance Reports

Leverage nationwide network of court document retrieval specialists to access public records.
Monitor and comply
Bridger Insight® XG

Conduct due diligence and screening to comply with global regulations and reduce fraud risks.

WorldCompliance™ Data

Robust databases of high-risk individuals and entities.

WorldCompliance™ Online Search Tool

One-stop Sanctions, PEPs and Adverse Media solution.

Periodic Business Batches

Update business information and monitor for changes in derogatory information.