A fast linking technology platform that delivers intelligent information connections.
LexID® is the ingredient behind our products that turns disparate information into meaningful insights. This technology enables customers using our products to identify, link and organize information quickly and with a high degree of accuracy.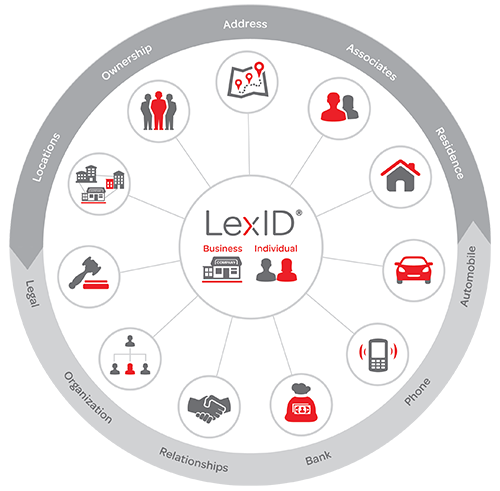 LexID is the linking technology behind our products that helps customers:
Get a More Complete Picture.
Make intelligent information connections beyond the obvious by drawing insights from both traditional and new sources of data.
Better Results, Faster.
Use a fast linking technology for processing large amounts of data to help you make decisions more quickly and confidently.
Protect private information.
Keep customer SSNs and FEINs secure and enjoy peace of mind knowing you are taking steps to observe the highest levels of privacy and compliance.
Improving Front-End Customer Verification
An advanced linking algorithm helps identify and prevent fraud.
A national telecommunications provider wanted to enhance its front-end customer verification process. By appending LexID, a unique identifier free of any sensitive personally identifying information, along with other models and data to a month's worth of transactions, LexisNexis was able to identify individuals who had applied for new accounts up to 55 times in a single month. The power of LexID technology provided a new means to help detect fraud at the point of sale.