About Us
Combining cutting-edge technology, unique data and advanced scoring analytics, we help customers around the world reach essential insights and make timely and informed decisions. We partner with industry and governments to help our customers confidently assess, predict and mitigate risk.
Insurance:
We help insurers assess their risk and streamline the underwriting process for auto insurance and homeowner claims.

Financial Services:
We help banks prevent crime, achieve regulatory compliance and mitigate business risk.

Technology:
We employ a proprietary linking technology platform, LexID®, that delivers intelligent information connections. LexID® is the ingredient behind our solutions that turns disparate information into meaningful insights by using unique algorithms to find links and patterns that would not otherwise be obvious in disparate data to uncover potential risk, fraud, or business opportunity.

We designed our own proprietary supercomputing platform, HPCC Systems®, enabling us to process at very high speeds. HPCC Systems enables data integration on a scale not previously available and real-time answers to millions of users. Built for Big Data and proven for 10 years with enterprise customers.

Customer Focus:
We offer innovative solutions to serve a wide range of industries and government while upholding the highest standard for security and privacy. By staying at the forefront of industry and technology trends, we deliver the insight your business needs to be successful.
LexisNexis consists of two distinct businesses, LexisNexis® Legal & Professional and LexisNexis® Risk Solutions. Both businesses are part of RELX Group, a leading publisher and information provider that serves customers in more than 100 countries with more than 30,000 employees worldwide.
LexisNexis® is built on a global foundation of a 40-year reputation as a trusted custodian of essential information.
Launch Your Career With An Industry Leader in Information Solutions
If you are looking for a career with an innovative company in a growing market, few employers can offer the opportunities LexisNexis Risk Solutions can. Our mission is to provide essential insights to advance and protect people, industry and society. Combining cutting-edge technology, unique data and advanced scoring analytics, we help customers across industry and government assess, predict and manage risk while upholding the highest standards of security and privacy. All of which delivers profound social good on a global scale. LexisNexis is part of RELX Group, a leading information provider that serves customers in more than 100 countries with approximately 30,000 employees worldwide.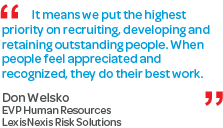 When you join LexisNexis, you're joining a company that's committed to professional development and training. We provide meaningful resources to help you grow, so we can grow. And we're devoted to making a positive impact on our communities. After all, doing good should always begin at home.
The world relies on experts to make the right decisions. Those experts rely on us. Our success is due to the talented employees who make LexisNexis the trusted company it is today: people like analysts, developers, project managers, customer support specialists, finance professionals and many others. It's people linked together, working towards a common goal, growing together not only as an individual, but as part of a community.
We depend on our employees and they, quite rightly, depend on us to create a fair, challenging, rewarding, and supportive work environment where they can achieve their potential. Valuing our people means being an employer of choice, one that's known and respected for best practices in retaining and recruiting the best staff. Only by attracting and keeping good people – and being acknowledged as a company where those good people can do their best work – will we be able to achieve our objectives and meet the expectations of our customers and shareholders.
Search for job openings at LexisNexis. 
LexisNexis is an equal opportunities employer and welcomes applications regardless of sex, marital status, ethnic origin, disability, religion, sexual orientation or age.