Robust search, analytics and reporting tools help you gather business intelligence on people, companies, assets and property. Our collections of public and proprietary records encompass more than 65 billion records. Specialized LexID® linking and LexisNexis® SmartLinx® reporting technologies help you build insights on people, companies and organizations.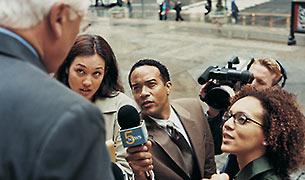 Collect vital insights with comprehensive current awareness and newspaper archives, rich analytical tools and customized alerts. Harness 40,000 premium news and web sources from local and global publishers—and social media too—reaching back 30 years, plus billions of public records and 600 sources of financial reports and executive profiles. Analyze the field you cover.

Collect competitive intelligence on a company or industry based on courthouse and state house activity. Know who is litigating and why. Know when they are going to trial or settling. Efficiently gain actionable insights with access to billions of docket entries. Use filters to narrow your results. On the road? Get updates with the CourtLink® mobile app.