Are you Aligning Supplier Risk Mitigation Strategies with Your Business Objectives?
Gaining visibility into and control over the multitude of internal and external risks is one of the top priorities of corporations today. With a recent jump in regulatory mandates and increasingly active shareholders, many organizations have become sensitive to identifying and mitigating supplier risk—including reputational, financial, regulatory, and strategic risks.
Four Strategies for managing supplier risk
Identifying risks no longer becomes the sole responsibility of just procurement specialists; executives demand greater visibility into the risk exposure of the organization so they can effectively manage risk and plan long-term corporate strategies. All touch points with the supplier bear a level of responsibility under this methodology. Through research survey at Aberdeen Group, we've identified four main risk strategies that companies should consider outlined in Figure 1.
The top two strategies, risk avoidance and mitigation, revolve around selecting suppliers. Avoidance focuses on using strict selection criteria for suppliers, alternate sourcing, or backup suppliers to take risk out of the business as part of the selection process. Supplier risk mitigation focuses on putting in controls to lower risk among suppliers such as constant monitoring and periodic reviews (i.e. Conducting regular quality checks to ensure supplier quality.) The next two strategies, risk transfer and compensation, are adopted at far lower rates, not that they are not important, but more so because they tend to deal with the remedy side of risk rather than eliminating the risk.
Risk compensation involves the acceptance of supplier risk through reserves and contingences, while risk transfer deals with utilizing actions such as risk insurance and contract management. The strategy that is undertaken depends on the company and what levels of risk they feel comfortable with—the best supplier risk mitigation approach usually involves some combination of all of them.
Figure 1: Supply Risk Strategies Implemented in the Organization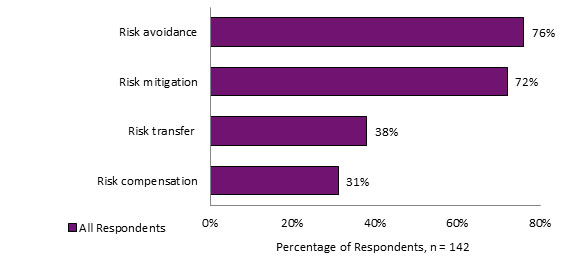 Source: Aberdeen Group January 2013
Metrics for risk (i.e. risk probability, risk register, risk scores, RKIs, etc.) tend to focus on qualitative scores or indices, and may be less actionable if executive involvement is not present. Familiarity with supplier risk metrics also provides a basis for executives to directly communicate the metrics on supplier risk and garner cross-functional support in mitigating it.
However, it takes more than monitoring to effectively manage risk, which is why successful companies utilize processes and technology to assist them.
Proactive Supply Chain Risk Mitigation Enables Success
The most noticeable enabler is the use of predictive risk monitoring via alerts and real-time online dashboards, where Best-in-Class are 2.1 times more likely to focus on this action (Figure 2). If you're planning on implementing a risk management strategy, the best place to start is with real-time dashboards and monitoring for negative news and other warning signs of supplier risk. LexisNexis has a good example of a dashboard that helps to manage risk. Nexis Entity Insight is an easy-to-implement solution that monitors a wide range of sources using PESTLE framework to identify Political, Economic, Socio-Cultural, Technological, Legal, and Environmental red flags— tailored to your specific risk concerns.
Figure 2:

Source: Aberdeen Group January 2013
This is a clear indicator that Best-in-Class companies may be more established in their ability to monitor existing or known risk factors that can impact a supplier's performance, and are looking to be better prepared to pre-empt potential disruptions that can impact performance.
Figure 3: Supporting Supplier Risk Management Efforts

Source: Aberdeen Group January 2013
As demonstrated in Figure 3, the Best-in-Class also rely on cross-functional groups to support their supplier risk efforts. Why is this? This is important, because of the very nature of risk; supplier risks can have wide-ranging and often overlooked consequences. By including multiple groups in the management of risk, you allow different viewpoints to get a look at the problem, which helps to ensure risk is managed from all angles.
There are many benefits to managing risk among your suppliers, which include:
Allows companies to create strategies that turn risk into a competitive advantage.
Helps determine whether or not it is beneficial for a company to conduct a customer intervention and know in advance what the potential outcomes might be for an intervention.
Lowers supplier costs by uncovering hidden opportunities (material substitution, alternate processes, or different concepts).
Puts companies in a better position to address supplier liabilities.
Risk is no longer just a part of doing business; risk management must now be integral in a company. To be as successful as the Best-in-Class you need to attack risk management holistically, and align it with the goals of the company.
See how Nexis® Entity Insight enables supply chain risk mitigation, tailored to your strategic goals. See for yourself with a 7-day trial.