Context

Case-making language analytics that take you from file to trial. Build your strongest argument with the most comprehensive legal language data.
Groundbreaking Language Analytics You Can't Find Anywhere Else
Whether you need to evaluate the strength of an expert witness, formulate your opening arguments, or determine what court venue to file in for the highest probability of a win, you need specific data points to make informed decisions. Get immediate insight with legal language analytics to help craft your most compelling argument with Context on Lexis®, the first and only case law language analytics solution in the industry.
Explore Legal Analytics From Context
Know the exact language. Write a persuasive motion. Find the precise case law language your judge relies on when weighing points of law like the one you're arguing right now.
Speak your judge's language
Protect your expert and exclude theirs. Know how judges have sized up an expert's testimony previously to defend your expert – or challenge your opponent's.
Prevail in Daubert challenges
Know the venue with unparalleled legal analytics. Discover how many cases like yours have been tried in a specific court, how the court ruled, and what language succeeded – before you even file your case.
Set your case up for success
Uncover opportunities and anticipate litigation risks. Better understand your clients and prospects based on their litigation history, financial data and news coverage.
Gain valuable market insight
Data-Driven Law for Better Outcomes
Build on your personal strategic litigation experience with deep analytical insights from across the full suite of Lexis® content. With this vast amount of legal analytics data, you will discover case-making insights on judges, expert witnesses, courts and companies to make better, data-based decisions — which means more wins for your clients.
Craft Your Best Argument
Quickly uncover language proven to persuade with Context. Pinpoint the words judges want to hear with legal language data. See the specific reasons why a judge excluded or admitted an expert witness' testimony. Give yourself the competitive advantage of language analytics to build your strongest case.
Exclusive Legal Language Analytics
Get an in-depth analysis of what language and arguments win (and lose) cases with powerful legal language analytics. The suite of algorithms Context uses to turn language into analytics has been carefully built and refined over 8+ years to extract meaningful insights out of millions of legal documents — so you can find case law language that has proven successful in the past.
Strengthen Client Relationships
Demonstrate your expertise to clients with hard data to back up your decisions and your argument. Show them a judge's profile and how your argument strategy has proven to be successful with that judge. Give them the legal document analytics data behind why you are filing in a particular court and how that increases your odds.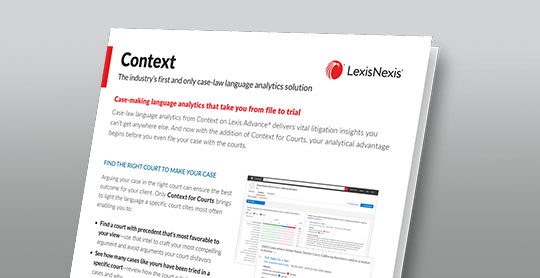 Context Overview
Case-law language analytics from Context on Lexis® delivers vital litigation insights you can't get anywhere else.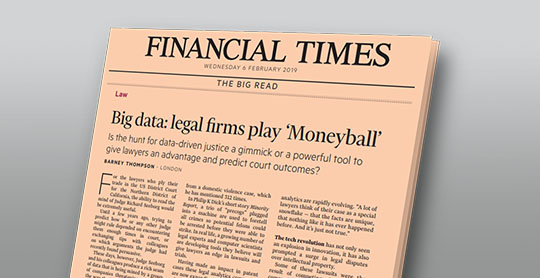 Legal firms play 'Moneyball'
Find out how leading legal firms use data analytics to predict court outcomes and assess their chances of winning a case.
Let's get started
Contact us by completing the form below. If you need immediate assistance, please call 888-AT-LEXIS
LexisNexis, a division of RELX Inc., may contact you in your professional capacity with information about our other products, services and events that we believe may be of interest. You can manage your communication preferences via our Preference Center. You can learn more about how we handle your personal data and your rights by reviewing our Privacy Policy.