Context Company Analytics:


Gain market insight. Uncover opportunities and anticipate litigation risks.
Now the power of language analytics is available across news, litigation and financial data.
Whether you need to understand the current landscape your clients are facing or are doing competitive research, Context Company Analytics on Lexis Advance® is the only legal solution to bring litigation, financial and news information together into robust analytical company profiles.
With this exclusive combination of extensive resources plus the power of advanced language analytics, Context Company Analytics provides a more complete view of a company with deeper insights than have ever been available before – all in easy to read dashboards.
Each company profile provides the high-level overview information you would expect to find in a company profile, such as address, company size and type, contact information, and more, but you will also find many Context exclusives like valuable litigation and news trends affecting a company and how they have impacted the company financially. With these insights, users can uniquely position themselves to win more clients and more cases.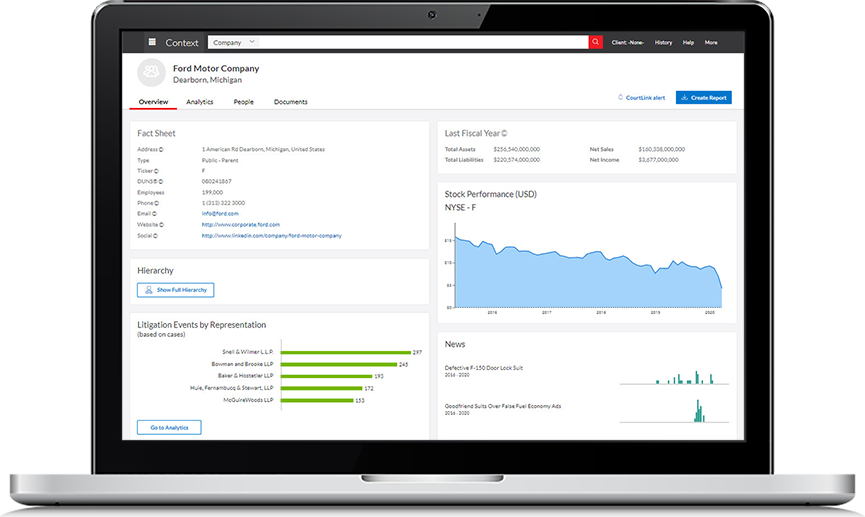 Better Serve Your Clients
Provide timely and informed counsel by staying current on the challenges your clients are facing. Demonstrate your expertise with industry trends and identifying litigation risks.
Find Competitive Insights
Set yourself up for success. Know the company you're litigating against, including the motions they might file, who will likely represent them, and what a reasonable settlement may be.
Identify Growth Opportunities
Position yourself to meet a company's evolving needs. Assess and monitor companies you may want to do business with or with whom you're considering a merger or acquisition.
Let's get started
Contact us by completing the form below. If you need immediate assistance, please call 888-AT-LEXIS
LexisNexis, a division of RELX Inc., may contact you in your professional capacity with information about our other products, services and events that we believe may be of interest. You can manage your communication preferences via our Preference Center. You can learn more about how we handle your personal data and your rights by reviewing our Privacy Policy.