Find Contact Information for CEO & Top Executives
Having reliable information about key executives and board members improves your ability to build profitable relationships—whether you are in sales, marketing, purchasing or another department. LexisNexis® Corporate Affiliations™ allows you to:
Download current contact information from our nearly 3.5 million unique executives, including directors. You can even pinpoint contacts based on over 300 titles and business areas.
Generate marketing lists using layers of criteria to target all the companies that would need your services for any reason.
Identify companies of a certain size within a certain geographical area.
Locate individuals using biographical facts from our information on close to 170,000 executives and directors (including schools attended, degrees, association memberships, awards, YOB/age, and current and historical career and board info).
Plus, our Executives Alerts feature makes it easy for you to keep track of executive moves, as well as promotions, appointments, resignations and more.
More about Executive Alerts
LexisNexis Corporate Affiliations emails you timely executive move notifications, based on your individual settings.
By Industry—Select from over 100 major industries.
By Company—Be alerted about all executive moves that occur within your target companies.
By Person—Keep track of your contacts.
By Multiple Settings—Set up more customized Advanced Alerts by selecting multiple layers of executive search criteria including industries, executive titles and geographical areas.
Our Executive Alerts enable sales and marketing professionals track current contacts and find new ones. Executive recruiters can also leverage alerts to locate potential candidates that fit open positions.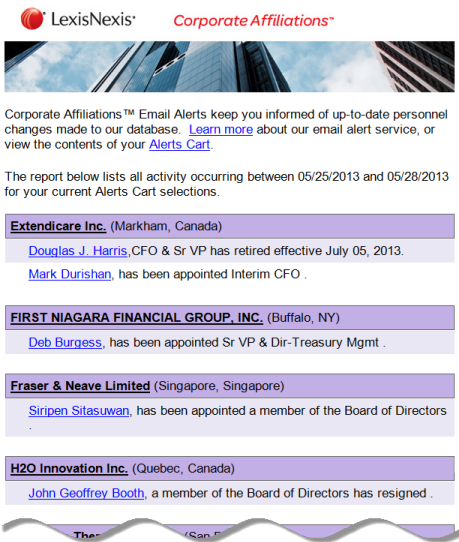 Verified & Reliable Company Information
Let's get started
Contact us by completing the form below or if you need immediate assistance, please call 1.888.AT.LEXIS
LexisNexis, a division of RELX Inc., may contact you in your professional capacity with information about our other products, services and events that we believe may be of interest. You can manage your communication preferences via our Preference Center. You can learn more about how we handle your personal data and your rights by reviewing our Privacy Policy.