Trusted Company Hierarchy & Corporate Family Database
Ready to gain a competitive advantage? LexisNexis® Corporate Affiliations™ brings the corporate information you need together in one location. Our detailed corporate structure information and company profiles provide valuable insights that can be leveraged to:
Research the organizational structure of a company and how it operates.
Discover more cross-sell and up-sell opportunities within the same corporate family as existing customers.
Identify potential strategic alliance opportunities to expand your business.
Evaluate risk and improve collections.
Determine spend and discount opportunities for vendors within the same corporate family.
Enhance your conflict of interest process by identifying corporate relationships—even when the company names are different.
Improve your fundraising by finding other companies related to your current sponsors.
What Do Our Corporate Hierarchies Cover?
Ultimate Parent—The very top company listed in a company hierarchy and the ultimate controlling company within a corporate structure.
Parent—The top tier within an organization but may not be the "ultimate parent." It should have other companies reporting to it, and would itself report to another legal entity. In many cases the terms, "parent" and "ultimate parent" are used synonymously.
Subsidiary—Separate corporate legal entity owned by the company at 50.1% or more.
Joint Venture—A business in which two or more companies share responsibility and ownership.
Affiliate—A separate legal entity in which there is an ownership interest by the parent company of less than 50%.
Division, Unit, Factory or Plant—An internal unit of a company, not incorporated or a separate legal entity. Usually tends to have many employees.
Branch—An internal unit of a company, not incorporated or a separate legal entity. Usually tends to have a small number of employees.
Group—Corporate classification grouping "like" industries or businesses,
Holding—A business whose voting stock is owned to influence its board, policies, and management.
Non–Operating Entities (Shells)—Legal non-operating entities (displayed at the bottom of its immediate parent's hierarchy).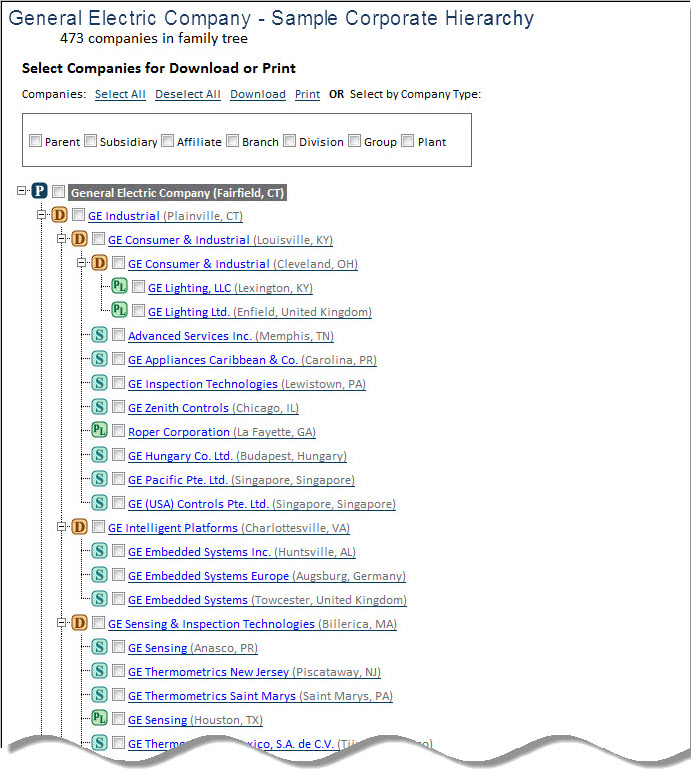 Verified & Reliable Company Information
Let's get started
Contact us by completing the form below or if you need immediate assistance, please call 1.888.AT.LEXIS
LexisNexis, a division of RELX Inc., may contact you in your professional capacity with information about our other products, services and events that we believe may be of interest. You can manage your communication preferences via our Preference Center. You can learn more about how we handle your personal data and your rights by reviewing our Privacy Policy.