Diligence spotter
Manage cases, screen third parties and assess risk with this dynamic compliance monitoring workflow solution.
Diligence spotter combines third-party screening, risk assessment, ongoing monitoring and case management into a robust regulatory compliance solution that helps your organization confidently, efficiently and cost-effectively mitigate risk.
Third-party screening
Identify and screen new clients, partners and organizations against PEPs, Interpol, sanctions and internal lists as part of your KYC process.
Risk assessment
Uncover potential risks that signal the need to escalate your due diligence screenings of customers or vendors to mitigate compliance risk.
Ongoing monitoring
Conduct automatic batch screenings that check against watch lists as an added layer of due diligence for a risk-based approach to compliance.
Case management
Manage risks related to AML, ABC and other operational compliance concerns with case management software featuring built-in audit and workflow tools.
Strengthen your risk assessment process
Customer or vendor onboarding is one step in a risk-based approach to regulation compliance. You also need to identify high-risk customers for escalated due diligence and maintain an audit trail of your efforts.
See how Diligence spotter works
These days, Know Your Customer (KYC) requirements aren't just for banks. The risk of financial, regulatory and reputational damage extends across industries when it comes to bribery, corruption, modern slavery and more.
KYC risk considerations
As the regulatory landscape continues to change, companies are spending more time and money on managing compliance. Diligence spotter can help you work more efficiently and cost-effectively.
Automate your KYC process
Thought Leadership Resources
Explore due diligence further
LexisNexis hosts and sponsors webinars designed to help you develop more effective due-diligence strategies to meet the demands of a complex business world.
View available webinars: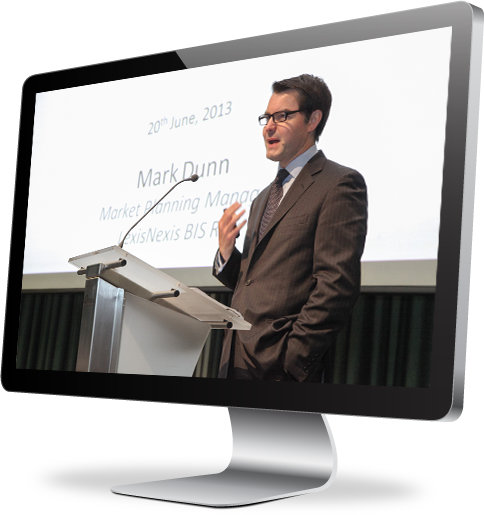 News
The LexisNexis® Business Insight Solutions blog covers today's hot topics related to business and risk management, plus upcoming events and Webinars.
Biz Blog

Visit for the news affecting today's business environment, stories from and about our insight-generating tools and a behind-the-scenes look at what we're up to at LexisNexis®.

Follow us on LinkedIn
Let's get started
Ready to learn more? Contact us by completing the form below or call 1-888-AT-LEXIS for immediate assistance.
LexisNexis, a division of RELX Inc., may contact you in your professional capacity with information about our other products, services and events that we believe may be of interest. You can manage your communication preferences via our Preference Center. You can learn more about how we handle your personal data and your rights by reviewing our Privacy Policy.