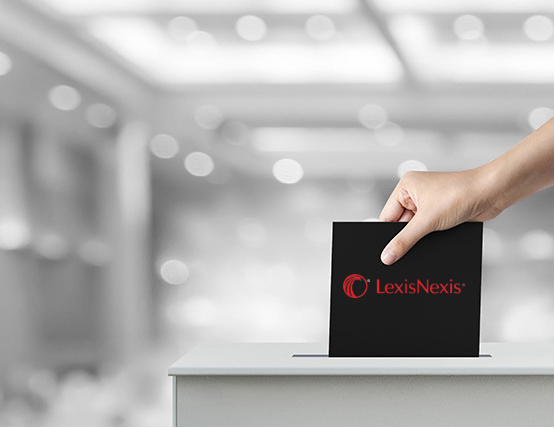 Uncover details about political opponents from the unrivaled collection of current and historical news, biographical sources and more in Nexis®.

Engage in fundraising to bankroll staff, campaign events, and advertising. How do you ensure you don't take money from the wrong person or organization? Learn how Nexis empowers better donor vetting.

Are you searching for media intelligence to inform a political campaign? Whether you want to track the buzz about the current campaign cycle or are analyzing media in anticipation of the 2020 election, Nexis® puts 40,000 news and business sources at your fingertips.
Imagine what the 2020 election has in store for campaign budgets. Gear up for the competitive campaign cycle with a powerful research solution—Nexis®.
Nexis brings together a wide range of credible sources—all in one place—to power PACs and political campaigns with relevant research. With Nexis, you can:
Conduct news monitoring across 40,000 print, broadcast and online news sources—many not available on the open web.
Dig into news archives—some going back 40 years—for background research on candidates, donors or campaign
Keep your finger on the pulse of 2020 election buzz across 6,000+ sources of select social media and web content from business, political and cultural leaders and influencers.
Enhance donor vetting with access to 82 billion public records* from 10,000 sources data, key wealth-identifying sources, plus 75 million executive and biographical sources, 80 million companies.
Explore a wide range of legal and regulatory sources, including Federal and State dockets and court records for opposition research or to anticipate potential threats.
Create Campaigns that Win
The political landscape is competitive—and often, contentious. But political professionals face an even bigger hurdle in the run-up to the 2020 election.
According to the 2018 Edelman Trust Barometer, the United States witnessed an unprecedented decline in trust, which plunged to its lowest level in 18 years—below Russia and South Africa.[1] In addition, the annual global survey of the general population and informed public revealed that skepticism is rampant: Fewer than one in three respondents think government officials are credible.[2]
How do you develop a winning campaign strategy in an environment of mistrust? Nexis enables you to search across a vast source universe from an easy-to-use interface. You can take advantage of the powerful LexisNexis® SmartIndexing Technology™ to uncover highly-relevant information that leads to actionable insights.
Conduct background research on the issues of most concern to your constituents and develop white papers, press releases and talking points for events and debates along the entire campaign cycle.
Identify likely fundraising prospects so you can keep the campaign coffers full.
Engage in donor vetting—and don't stop there. Given the current trust crisis, you need to understand any potential reputational risks posed by sponsors, speakers and other individuals or organizations aligned with your campaign.
Keep campaign communications on point. With access to current news and social media commentary, you can spot trends and respond proactively to drive engagement.
Download our tip sheet on "Creating Campaigns that Win" and fill out the form to learn about exclusive pricing on Nexis for political organizations.