Lexis Product Liability Navigator™
Evaluate whether to take a case and determine the best way to win with Lexis Product Liability Navigator—the answer to all your product liability law questions in one comprehensive view.
Whether you need to evaluate the risk associated with a prospective case, formulate your product liability lawsuit strategy, or build an impenetrable defense, you need specific data points to make informed decisions. Get immediate clarity as a product liability attorney into the value and viability of a product liability case with Lexis Product Liability Navigator™.
Our dashboard curates the most impactful information needed to evaluate a product liability lawsuit and presents it in a visual format to tell a complete story at a glance, empowering product liability lawyers to move quickly.
Understand Risk and Reward
The robust dashboard paints a complete picture of a product liability case's potential by synthesizing historical data and cross-jurisdiction warnings. Access critical regulations, recalls and reports, multi-district litigation, verdicts and settlements, case law and expert witness information within seconds — so you can understand the risk associated with a strict product liability case.
Save Time and Resources
Reduce the time it takes to research and work up a product liability case. All your needed data can be discovered through one dashboard. This solution cuts out irrelevant product liability tort results to save you valuable time. By inputting only one to four data fields up to 19 separate searches are conducted simultaneously across all product liability law content types. In one concise dashboard, access the most critical data points needed to analyze a product liability case — with value-added insights to accelerate comprehension.
Rely on One Point of Reference
Access Lexis documents at your fingertips with the product liability focus you require, and in one view, get the pertinent information needed to deliver high-impact insights for your client — whether you're tasked with building an airtight product liability defense or securing a sizeable settlement. Use uniquely tailored filters designed for product liability case research to pinpoint the key facts that you need as a product liability lawyer.
Conduct Expert Research
Find the information you need, every time, with the use of No Fail Searching. When your product search would yield no results, Lexis Product Liability Navigator will automatically run through a series of up to 19 searches across multiple content types, following the same process top researchers use, to provide the most relevant information available. Customize your search even further by indicating additional terms that should be included or excluded in just one click.
Visualization of the data needed in any product liability case is presented in one complete dashboard.
Put in only the product type in the search bar, or search with more specific data such as product name, manufacturer name or jurisdiction, and up to 19 searches are conducted at once. Post-filters are then available, specific to your search, for even more refinement.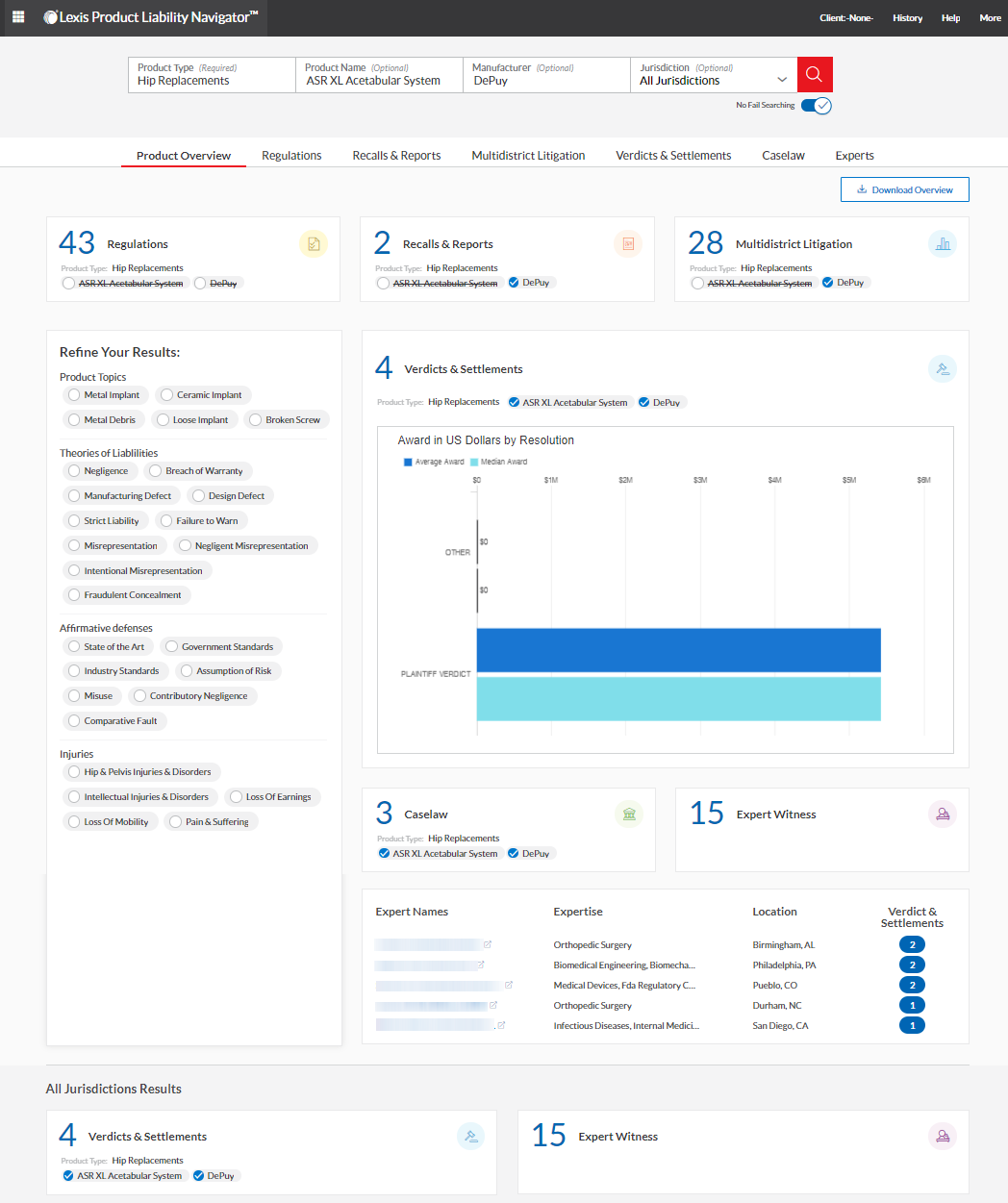 Unique Tailored Filtering
Filters designed specifically for how a product liability attorney conducts research.
Easy Visualization
One concise dashboard with only the most pertinent information.
Multiple Searches at Once
Up to 19 searches occur at once to provide a complete picture.
No Fail Searching
Conduct expert research that always returns the most relevant results.
But don't take our word for it
See what your colleagues are saying about Lexis Product Liability Navigator
I got a wealth of information. [Lexis Product Liability Navigator] really is the best I've ever seen. I was able to drill down right where I needed to.
Incredible...I wish I had had [Lexis Product Liability Navigator] 10 years ago. I've spent countless hours trying to find info on the particular product at issue in a case, trying to find an expert who could help, etc. This will greatly simplify things.
[Lexis Product Liability Navigator is a] very impressive system that will save us a considerable amount of time in evaluating whether to take cases on the plaintiff side.
I am very impressed. [Lexis Product Liability Navigator] is very easy to use and the results are very helpful.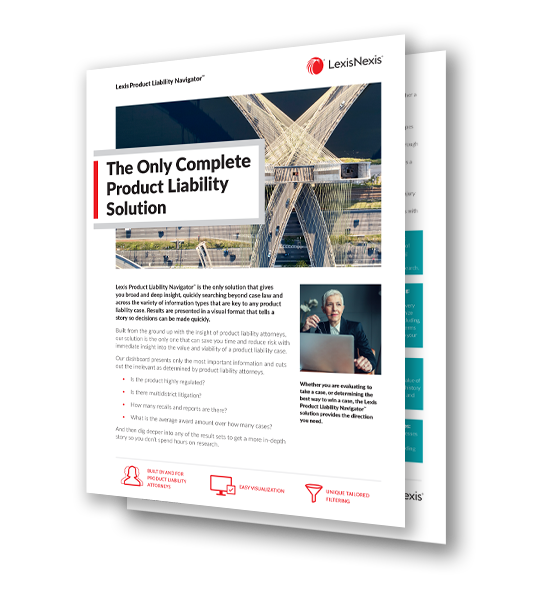 Product Liability Navigator Overview
Get a succinct and informative overview of Lexis Product Liability Navigator by downloading our overview brochure.
Announcements
LexisNexis Launches Lexis Product Liability Navigator to Help Practitioners Determine Case Value and Viability While Reducing Risk and Research Time
New workflow tool on Lexis aggregates all the data and insights attorneys need to assess product liability cases and formulate legal strategies in one comprehensive dashboard
"Product Liability Navigator is a powerful solution that addresses the unique needs of litigators practicing products liability law. The workflow-based solution illuminates the risks or rewards of a case and saves time and resources on case assessment,"
— Sean Fitzpatrick, CEO at LexisNexis North America.
Speak with a sales representative
LexisNexis, a division of RELX Inc., may contact you in your professional capacity with information about our other products, services and events that we believe may be of interest. You can manage your communication preferences via our Preference Center. You can learn more about how we handle your personal data and your rights by reviewing our Privacy Policy.

Lexis® Verdict & Settlement Analyzer
Make your case with our powerful litigation tool for reviewing past cases to assess opportunity and risk for your current case.

Context
Get deeper insight into expert witnesses and judges mentioned in your work product.