Search Advantage
Knowledge management software that works twice as hard, so you don't have to. Find relevant internal and external documents with a single search.
To build stronger arguments and find efficiencies in your work, you look to the past. Case law, archived codes, and other legal documents provide context and lay the groundwork to build off of when formulating case strategy.
Law firm knowledge management​ and entity resolution software are key to ensuring that no stone is left unturned during legal research. But what knowledge management platform​ offers both intelligent​ content enrichment​ and ​DMS integration​?
Next-Generation Law Firm Knowledge Management
To elevate your content from a traditional static asset to a dynamic and valuable point of reference, choose Lexis Search Advantage. This enterprise search solution simultaneously scans your internal documents and LexisNexis® repository — analyzing millions of internal firm documents and external sources in a single search. AI-powered entity recognition ensures every search provides a broader, deeper perspective across the entire spectrum of resources at your disposal with the most relevant content based on our proprietary content enrichment AI technology.
Explore The Power Of Search Advantage
Search Across All Documents
One fast and all-encompassing search scans millions of documents from internal work products and external databases to make legal knowledge management a breeze through simple document management system integration.
Reduce Tedious Work & Human Error
Even when authors classify documents incorrectly, the knowledge management platform leverages sophisticated classification algorithms to fix the error and help you find the most relevant work product in record time.
Increase Confidence In Your Legal Output
With instantaneous citation recognition, quickly discover whether your citations are good law with continually updated Shepard's Signals™ indicators on work product and case law that reflect the editorial analysis conducted by experienced attorneys.
Scalable Knowledge Management Tools
Unlike other solutions, you can enrich virtually an unlimited number of documents so as your knowledge management needs grow — so do your content enrichment capabilities.
Protect Your Intellectual Property
The open document search tool works in tandem with your firm's document management system software to provide behind-the-firewall security and protect your firm's server, IP, and confidential documents
Accelerated Precedent Search
Locate the right documents in record speed with the document search utility. One comprehensive search combs your internal document management system and LexisNexis content.
Comprehensive Search & Validation
Rest assured knowing your search returned the most relevant results from selected DMS and SQL databases — both internal and external — for more robust legal knowledge management.
Choose your search advantage
Lexis® Search Advantage | Litigation
Surface the most relevant internal documents and LexisNexis® content using our proprietary content enrichment. With every search, your results provide a broader, deeper perspective across your entire spectrum of resources, allowing you to work smarter and faster than ever before.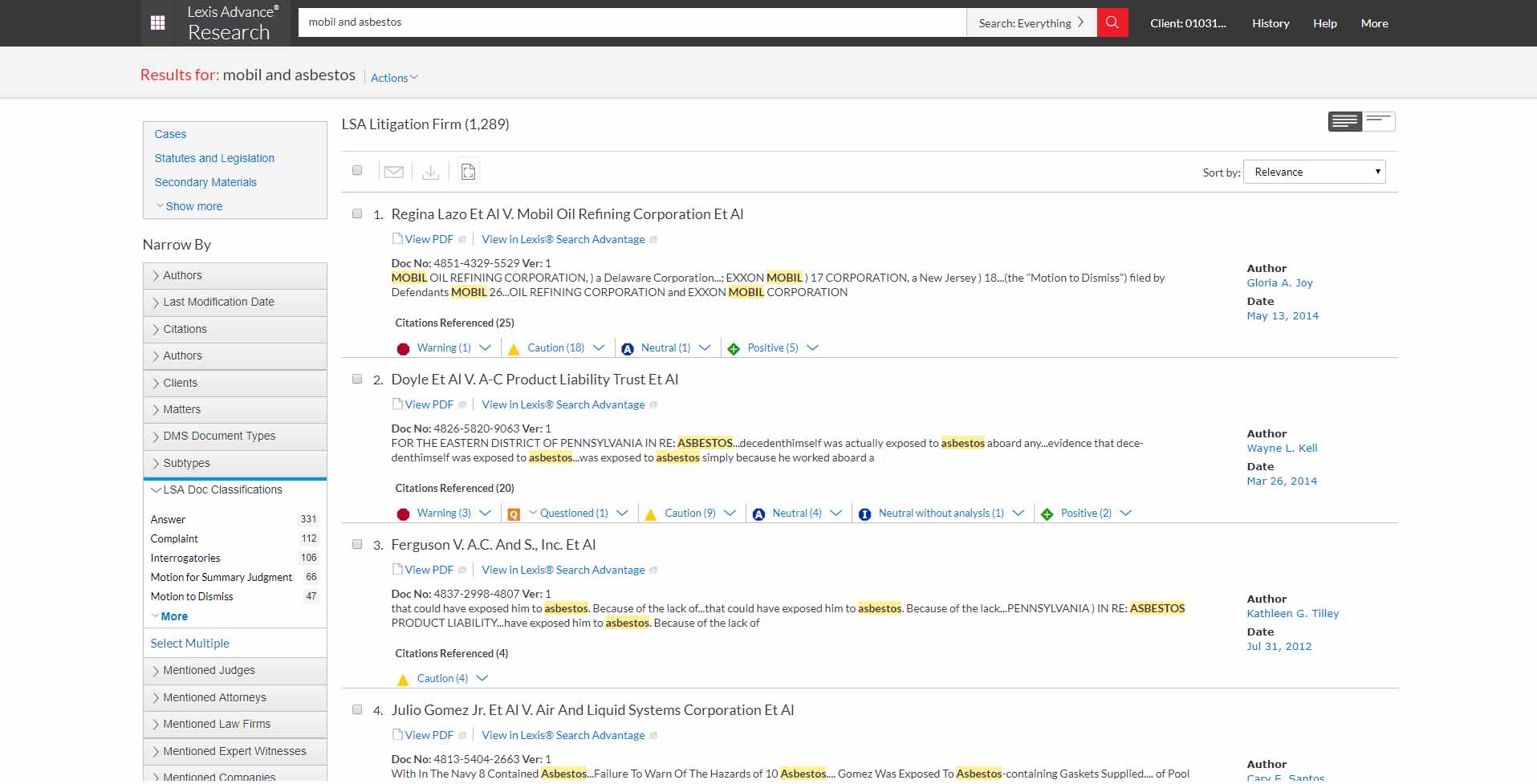 Quickly find precedence within your own work product.
Lexis® Search Advantage | Transactional
Powered by Intelligize®
Access the universe of third-party agreements by searching across both internal documents and agreements filed with the SEC. The advanced algorithms of Intelligize enable the indexing engine to classify internal documents and enrich them with advanced metadata that supports even the most complex conceptual searching.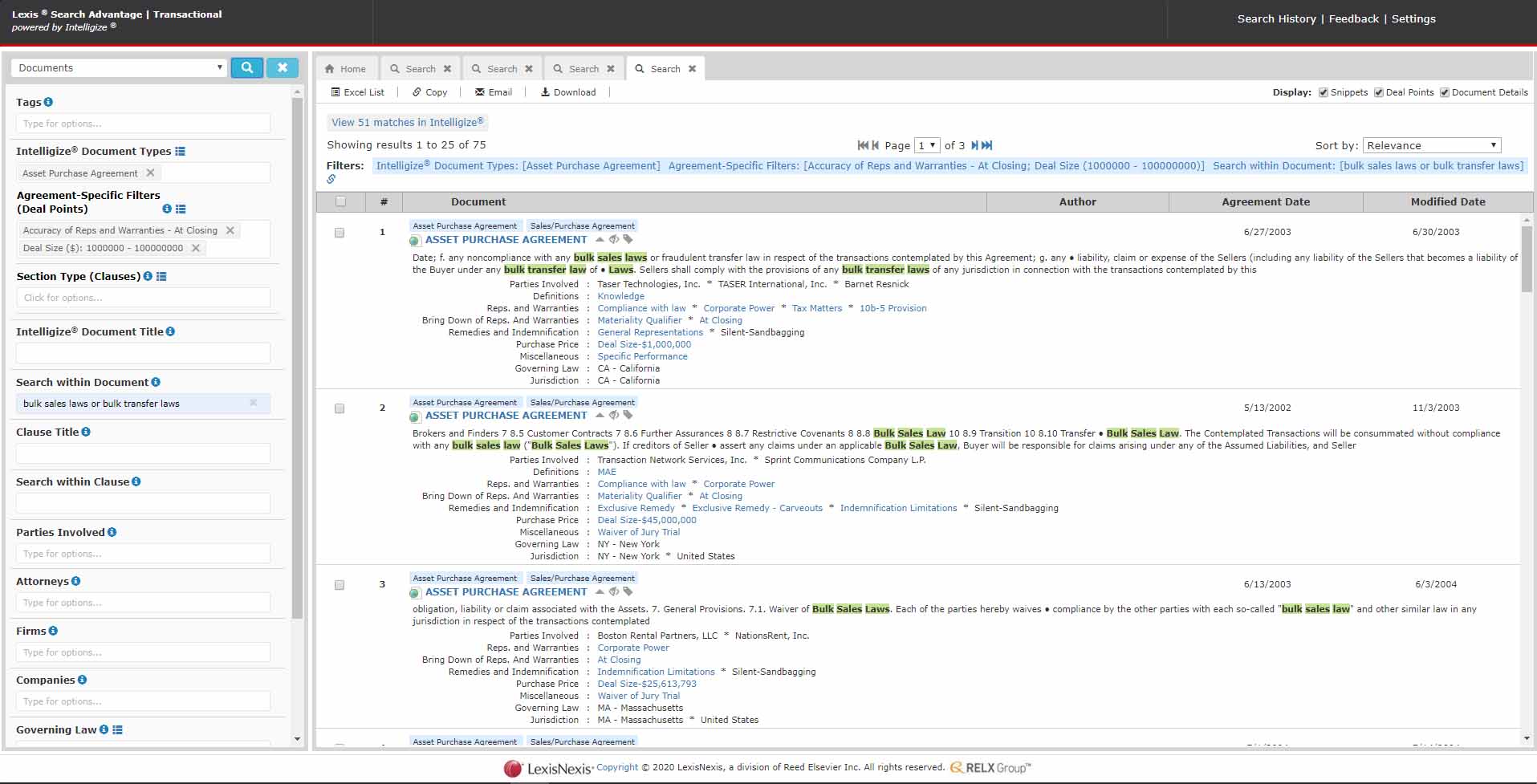 The same algorithms that are used for SEC filings in Intelligize® are applied to your internal documents.
Case Studies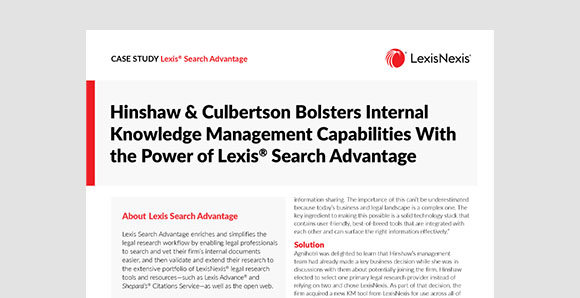 Learn how Hinshaw and Culbertson bolstered their internal knowledge management capabilities with Lexis® Search Advantage | Litigation.
---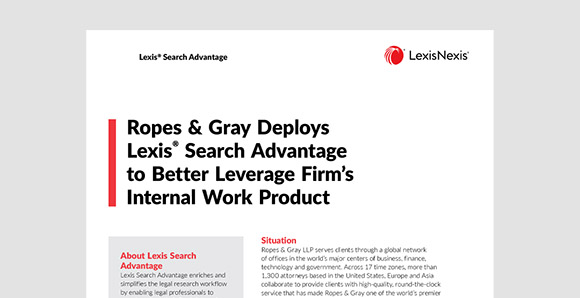 Learn how Ropes & Gray used Lexis Search Advantage | Transactional to improve collaboration, increase attorney confidence and realize significant time savings.
Request your
Lexis Search Advantage

demo now

Contact us by completing the form below. If you need immediate assistance, please call 877-235-3888 or email lsasupport@lexisnexis.com
LexisNexis, a division of RELX Inc., may contact you in your professional capacity with information about our other products, services and events that we believe may be of interest. You can manage your communication preferences via our Preference Center. You can learn more about how we handle your personal data and your rights by reviewing our Privacy Policy.