Cybersecurity Guidance and Infrastructure for Financial Institutions
The LexisNexis® Sheshunoff® Bulletin helps you create a holistic security program to better protect your institution from cybersecurity threats.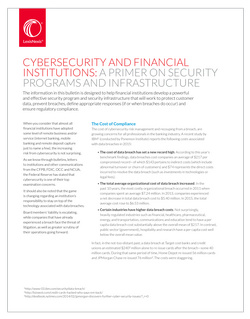 The Federal Reserve has stated that cyber security is one of their top examination concerns. As financial professionals face a daunting array of unprecedented legal and compliance challenges, both the risks and the costs associated with a data breach are escalationg. The Cybersecurity and Financial Institutions Bulletin was written to guide your institution in the structuring of a cybersecurity compliance plan, as well as assist in a response plan should a breach occur.
The Cost of Cybersecurity Compliance
As cybersecurity breaches continue to threaten organizations, customers, board members, and shareholders, the need for a comprehensive, robust security program is more important than ever. In fact, studies show that costs associated with data breaches are at record highs and regulatory scrutiny is increasing.
Cybersecurity and Financial Institutions is designed to help you create a holistic security program that better prepares your organization for cybersecurity threats, offers guidance on how to react if or when a breach occurs, and includes information on the following components of a security program:
Risk Assessment
Designing your Security Program
Response Program
Training
Overseeing Service Providers
Critical Cybersecurity Infrastructure Elements
Cybersecurity and Financial Institutions from LexisNexis® Sheshunoff® examines key elements of a successful infrastructure, as covered by the National Institute of Standards and Technology (NIST) response to Executive Order 13636, "Improving Critical Infrastructure Cybersecurity":
Identify
Protect
Detect
Respond
Recover
Download the Bulletin
Financial professionals face a daunting array of unprecedented challenges that are changing everyone's understanding of risk management. Download your free copy of Cyber Security and Financial Institutions today and help protect your institution against potentially devastating security breaches and ensure regulatory compliance.