2019 State Legislative Sessions Calendar
Stay sharp and focused. The LexisNexis® State Net® Legislative Sessions Calendar helps keep you on top of the legislation and regulations that are crucial to your organization.
---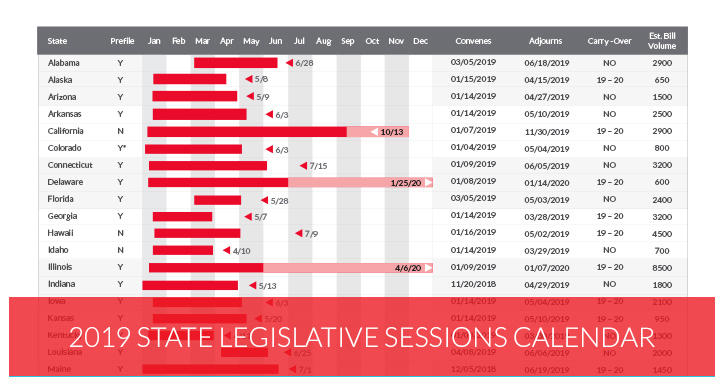 In 2019, federal and state legislators will consider thousands of new bills and regulations, not to mention amendments to existing legislation. Healthcare, government budgets and fiscal affairs, job creation and public safety matters are just a few of the legislative concerns that could impact your organization. State Net®—a leading provider of state and federal legislative and regulatory content—can help you navigate through it all with the State Net Legislative Sessions Calendar.
Keeping tabs on when Congress, 50 different state legislatures and U.S. territories are actively considering new bills can be a challenge. Some legislative sessions run all year, but other states are active only for a couple of months. Other state legislatures operate on a two-year cycle and can carry over legislative proposals from one year to the next. In 2019, we project that lawmakers will consider over 166,000 new bills and approximately 11,000 carry-over bills.
When state legislatures are active, a lot of bills can be sent to the governor's desk during a short period of time, so it is important to monitor when legislators are in session and to know the various executive signing deadlines for each state. The State Net 2019 Legislative Sessions Calendar can help you keep tabs on when legislatures are active as well as important legislative dates and deadlines.
With easy-to-read session dates and deadlines, our convenient Legislative Sessions Calendar is an indispensable resource for government affairs, compliance and legal professionals who monitor federal and state legislative activity. In a glance, you'll see the most current convening and adjournment dates, projected executive action deadlines and more—for all 50 states and Congress.
GET YOUR 2019 STATE LEGISLATIVE SESSIONS CALENDAR NOW!
Order your free calendar today by simply filling out the form on this page.
---
Previous Sessions Calendars
If you'd like to download previous years' legislative calendars, you may do so by clicking on the links below: