State Net
2021 Legislative Sessions Calendar
Stay on top of the legislation and regulations that are crucial to your organization.
---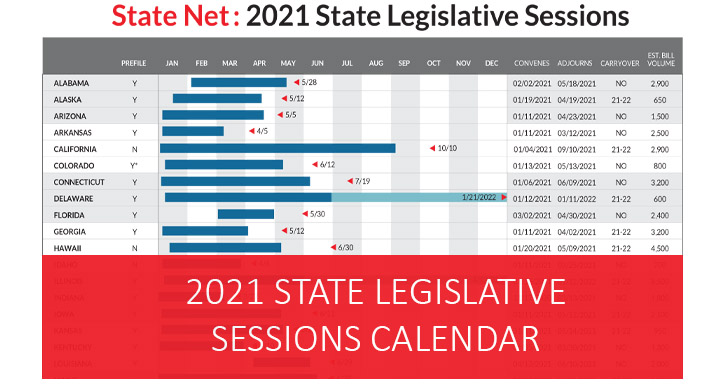 Keeping tabs on when Congress, 50 different state legislatures and U.S. territories are actively considering new bills is hard. Some legislative sessions run all year, but other states are active only for a couple of months. Other state legislatures operate on a two-year cycle and can carry over legislative proposals from one year to the next. In 2021, we project that lawmakers will consider over 92,900 new bills and approximately 75,000 carry-over bills.
2021 Legislative Calendar can help you monitor when legislatures are active as well as important legislative dates and deadlines. Our state legislature calendar provides information on legislative sessions in each state, district and territory, including regular legislative session dates as well as special session dates
Some 2021 legislative sessions may be postponed due to the Coronavirus pandemic. Keep up with the latest news from State Net regarding changing legislative session dates
GET YOUR 2021 STATE LEGISLATIVE SESSIONS CALENDAR NOW!
---
Previous Sessions Calendars
If you'd like to download previous years' legislative calendars, you may do so by clicking on the links below: