In 2023, we project that lawmakers will consider over 169,750 new bills. Determining which measures are relevant to your organization, and keeping track of their progress, is tedious and time-consuming.
The State Net® Issue Screening Service takes on the gargantuan task of tracking measures relevant to your organization through a combination of leading-edge technology and meticulous human review. As a result, you have timely and precise reporting on your most critical issues.
Here's how it works:
Our staff of experts in legislative and regulatory processes works alongside you to help identify the key measures that impact you and your organization. Next, they build your personalized strategy, based on your needs and priorities, so you won't have to worry about missing something critical.
Starting with tens of thousands of bills and regulations, our proprietary search algorithms use many sweeps to identify language relevant to your criteria to ensure reliable results.
Our designated solutions team identifies and reviews each bill against your unique requirements and routes the relevant documents to your private tracking file.

Regular support team reviews keep your issue tracking fine-tuned and ensure reliable tracking in the face of ever-changing legislative and regulatory dynamics.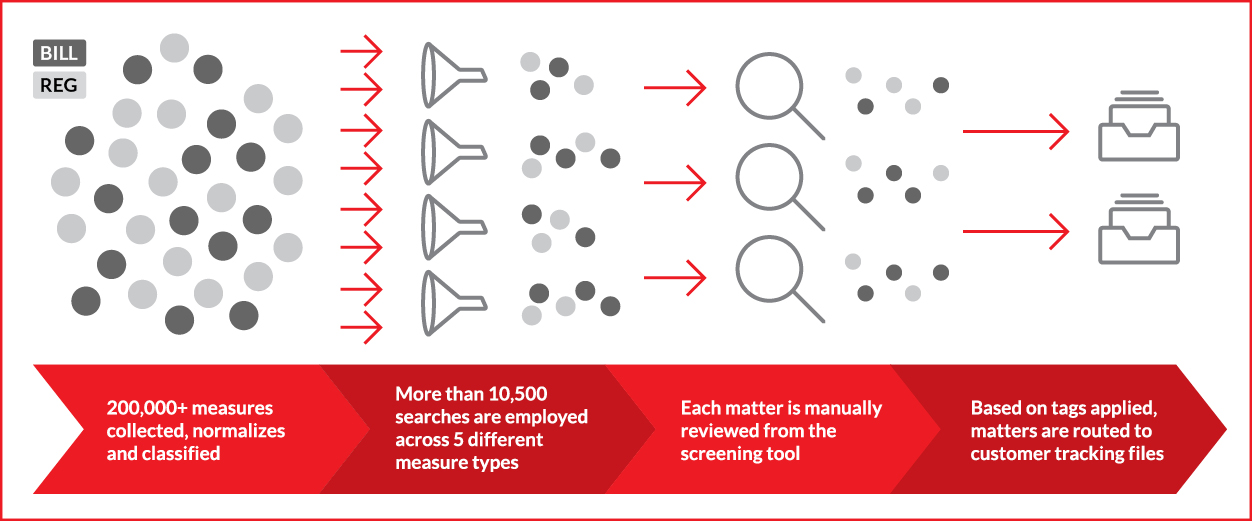 With a few simple steps, the Issue Screening feature will help you gain an edge in today's ever-shifting legislative landscape while helping save you and your organization time and money.
Industry coverage
State Net monitors hundreds of legislative and regulatory issues for clients across various industries. Every day, we read new measures for issue relevance and deliver updates to our clients in:
Banking & Finance
Labor & Employment
Insurance
And More
Let's get started
Request a product demonstration and a free trial by completing the form below. If you need immediate assistance, please call 800-726-4566.
By submitting this form, you agree to the LexisNexis Terms of Use
LexisNexis, a division of RELX Inc., may contact you in your professional capacity with information about our other products, services and events that we believe may be of interest. You can manage your communication preferences via our Preference Center. You can learn more about how we handle your personal data and your rights by reviewing our Privacy Policy.
This site is protected by reCAPTCHA and the Google Privacy Policy and Terms of Service apply.