Integrating Supplier Risk Management in Your CRM and SRM
Just as companies have multiple interactions over time with their customers, so too do they interact with suppliers— looking at conducting supplier risk assessments, negotiating contracts, managing logistics and delivery, and so on.
Benefits of Proactive Supply Chain Risk Monitoring
It's true, supplier relationship management (SRM) and customer relationship management (CRM) are related, closely related. The many interactions with suppliers should be viewed as a relationship, one which can and should be managed in a coordinated fashion across functional and business units. The use of CRM has skyrocketed in recent years, as a must have for most organizations. That's good news for companies looking to implement a SRM system as many best practices can be applied to both.
At Aberdeen, we have a complete practice dedicated to sales effectiveness and CRM best practices. I wanted to share an interesting section from last year's report CRM 2013: Generating Business Value throughout the Enterprise, which focuses around providing the data needed for sales to be effective. To pull a direct quote:
"Much as today's consumer can learn virtually everything about a product or service from rudimentary online research (and without even speaking with a sales rep), a strategy-minded sales professional needs to have at their fingertips every piece of data about their conversation partner in order to put forth the most effective sales messaging and tactics."
If you tweaked a few words (company's instead of consumer, supplier instead of product/service, procurement officer instead of sales professional, etc.) this now applies to SRM instead of CRM. One of the most relevant findings from the report is how to enable the best practice of data access, which should also be applied directly to any SRM system (Figure 1).
Figure 1: Integrating Multiple Data Silos Supported by the Best-in-Class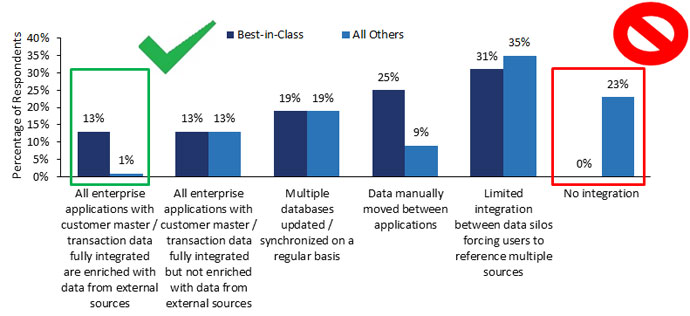 Source: Aberdeen Group January 2013
There is striking differentiation between data integration levels reported by Best-in-Class companies and All Other survey respondents. Basically, the data shows a direct correlation between corporate performance, the intensity of integration, and CRM data quality and accessibility. The same principle can be applied to a SRM system; by allowing access to the data needed you will help ensure successful supplier management. Many companies already are implementing this best practice with their CRM, why not apply this same approach to SRM?
Not only is this integration and enrichment with external data a needed practice for an SRM system, it enables a 360-degree view of your suppliers that is easy, flexible, and most importantly current on its data findings.
Using the 360-degree supplier view as the basis for an SRM, the content that might be considered for an SRM site would span several inputs. Basic supplier specific information would be necessary such as contract information and deliveries for the specific supplier, both past due and current requirements or next 2-4 weeks. Also, any pending quality disputes or unresolved billing questions should be included, as well as a supplier scorecard to include the most recent and current period to date, any open RFQ or RFI's pending, and any open alerts highlighting exceptions or requests for deviations.
Beyond the immediate supplier information would be more general content such as news (particularly adverse news), market analysis, perhaps relevant commodity information, and social content such as blogs or links to them. Third-party content related to the supplier might be corporate data or news, legal information, sanctions or watch lists, and possibly stock related to the host company and supplier. Depending on the level of supplier partnership this could be a very crucial hub where a partner relationship might apply to a very a generic status type of information site. In either case, a robust SRM system should accommodate both internal and external information on suppliers. The table below is just a start for where the CRM and SRM are closely related in the types of information they track for organizations:
| | |
| --- | --- |
| CRM | SRM |
| Customer Contact Information | Supplier Information – Contact, contract |
| Status: Current deals or agreements in place | Status: Deliveries, shipments |
| Outstanding Items: Emails contact, contract questions | Outstanding Items: billing questions, disputes, invoices |
| Lead score: as it relates to company and lead qualities | Supplier Scorecard |
| Company news or press, relevant industry information | Industry Information: 3rd party data related to the corporate relationship |
| Additional company information: Social links for company and contact, blogs, related web properties | Company Info: Social links, blogs, websites |
Supplier management is an area that has evolved in recent years. As global commerce expands, organizations will increasingly need to focus on supplier relationship management, risk mitigation and the functions that are described within it. There is hope however; you can utilize best practices learned in other areas of the business, namely CRM, to aid in the execution of SRM.
LexisNexis sponsored this Aberdeen article. Arrange a free 7-day trial of Nexis® Entity Insight to see how this flexible supplier risk monitoring solution can integrate with existing CRM and SRM systems to increase visibility into third-party risk.