What is Sustainable Supplier Management?
Managing supplier relationships today has gone from identifying and buying goods and services based on negotiated pricing (a transaction focused approach) to the strategic ability of recognizing potential supply chain risks and opportunities for both buyer and supplier.
Benefits of Proactive Supply Chain Risk Monitoring
This change is reflected by enhanced supplier management activities. Effective supplier management can lead to a variety of benefits, including increased collaboration, savings to the buyer, and alternative or even additional sources of revenue for the suppliers over the long-term.
A "win-win" opportunity can sometimes be hard to spot. The right information needs to be tracked and monitored to ensure a successful relationship. When asked about what supplier information is currently being collected, Aberdeen found that companies are great at managing corporate and financial information, but seriously lacking in other key areas (Figure 1).
Figure 1: What Supplier Information is Currently Tracked / Collected?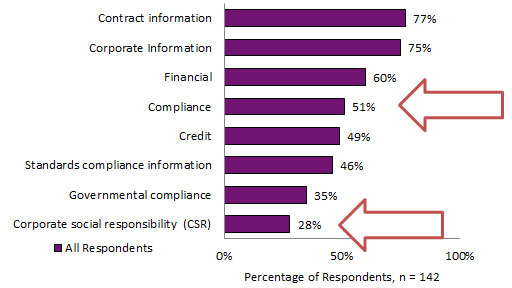 Source: Aberdeen Group January 2013
Supplier management will only succeed if introduced as a long-term, sustainable, holistic strategy across all business acumen. Compliance (51 percent) and CSR (28 percent) are two areas that are often overlooked when using suppliers, but can have a profound effect on the business. Supplier management isn't just about going out and negotiating over price; if you are looking for a partnership you have to look into these other areas.
Compliance is already a complex issue that companies are trying to stay on top of, but as we are entering the age of regulation, the amount and scope of new regulations are only increasing. The fact that roughly only half of companies currently track compliance information is alarming. Compliance is a concern that cannot be pushed aside; it requires constant monitoring to be properly managed.
When the Dodd-Frank act was passed into law, any company registered with or supplying to a company registered with the SEC to provide the conflict status of all their goods. However, an Aberdeen survey showed that 30 percent of companies were not even aware of this law going into effect or the ramifications it could bring (Source: Aberdeen Group January 2014). Other laws, such as the UK Modern Slavery Act and the California Transparency in Supply Chains Act, also create a nightmare scenario for any company that is not already tracking compliance information from suppliers. Companies who are not prepared could face long-term repercussions on the business.
Ethical Sourcing is Good Business
Such laws are directly related to Corporate Social Responsibility (CSR). Though not formally regulated, CSR is affiliated with adhering to the spirit of law, ethical standards or international norms defined by organizations such as International Organization for Standardization (ISO); the goal of tracking CSR data is for promoting a positive image or impact on an organization's involvement in areas such as environment, community, and other areas of the public sphere. And in the digital age—where negative news about forced labor in the supply chain can go viral in an instant—the potential reputational, and subsequent financial damage, can be significant. Yet, only 28 percent of respondents are tracking corporate social responsibility areas (social, labor, economic, and environmental). In comparison, Best-in-Class companies are 60 percent more likely than their competitors to try and establish corporate social responsibility programs through formal supplier relationship teams / supplier boards (Source Aberdeen Group January 2013).
As the data shows, compliance and CSR are two areas that are lagging behind when it comes to supplier tracking/management. By not factoring in both CSR and compliance variables into selection you are introducing risk to the business. A sustainable supplier management strategy is critical to the long-term health of a business and includes CSR and compliance tracking strategies. There are obvious benefits like the opportunity to identify cost savings among suppliers, but there are also intangible benefits such as positive brand equity and reducing risk in the business. The most successful companies realize this and strive to push for sustainable relationships among their suppliers.
See how Nexis® Entity Insight improves visibility into compliance and CSR supply chain risk using a PESTLE-based framework. Request your 7-day trial today.