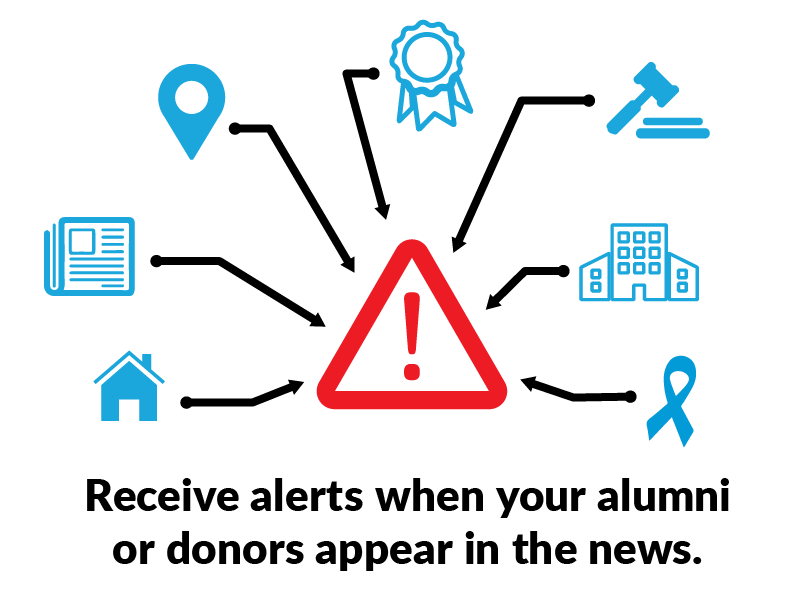 On average, alumni give more than 25 percent of charitable donations that universities receive annually. As a result, you need to nurture alumni relationships on an ongoing basis. Nexis® for Development Professionals helps you stay in touch. How?
Set Up Alerts to Run Automatic Searches on Alumni and Major Donors
Receive timely email notifications—on the schedule of your choosing— when alumni or donors appear in the news. Mentions of career changes or special achievements represent great, organic opportunities for your development team reach out to alumni and donors in a positive way. Rather than only connecting through donation request letters, for example, you can use positive news mentions to send a brief note of congratulations, helping you build stronger, more personal relationships with this key group to boost giving.
Conversely, tracking negative news mentions on alumni, staff or donors enables you to proactively manage risks that pose a threat to your organization's reputation or fundraising goals. With targeted "negative news" search syntax, Nexis for Development professionals will help you quickly and immediately identify potential issues related to an extensive list of risk factors such as bankruptcy, labor violations, criminal activity, data breaches, discrimination, terrorism and more.
Find out how Nexis® for Development Professionals can help you make meaningful, lasting connections with alumni and high-value donors that will keep your fundraising on track. Ask for a personalized demo of this prospect research software today!