U.S. Tax Treaties, Heckerling Institute, etc.:
A vast tax law collection
Your professional success is built on rock-solid tax advice and strategy. Be certain you are absolutely right and up to date by accessing more top sources in one solution—a collection that's not available anywhere else.
Efficiently cover your bases on the Code, plus industry news and analysis
Consult exclusive Matthew Bender® titles, including more than 80 federal, state and international tax treatises like Federal Income Taxation of Corporations Filing Consolidated Returns; Federal Income Taxation of Inventories; Rhoades & Langer; NYU Institute on Federal Taxation; and Heckerling Institute on Estate Planning.
Count on unmatched state estate–practice sources, including 100+ state-specific estate planning and probate treatises, practice guides and forms sets, all from Matthew Bender.
Need more? Get more. You can upgrade your subscription plan to include CCH® titles as well as Law360® news with its fast-to-market tax news.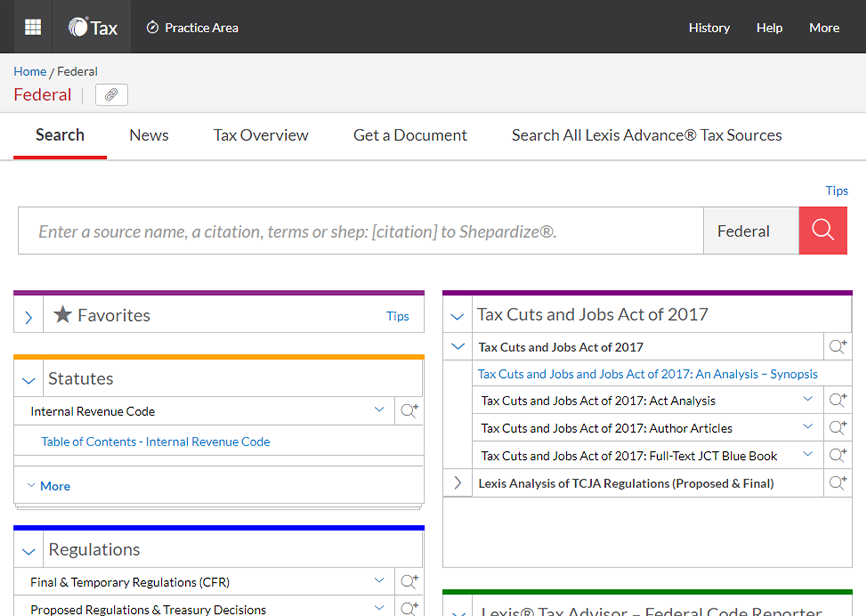 Make the most of intuitive source selection and simple-to-use tools developed by and for tax law professionals.
Find relevant results faster
Use all available subscription content for one fixed price per user. Stay focused on your work, not cost.
See what's covered
Finished exploring? Start experiencing.
You've seen just a few of the real differences across our content, innovative tools and leading-edge legal technology.
Now let's talk about how we can best apply those differences to meet the distinct needs of your organization.
LexisNexis, a division of RELX Inc., may contact you in your professional capacity with information about our other products, services and events that we believe may be of interest. You can manage your communication preferences via our Preference Center. You can learn more about how we handle your personal data and your rights by reviewing our Privacy Policy.