Compliance Risk is on the Rise. Is Your


Due-Diligence Process Up to the Challenge?
---
Supply Chain Risk Mitigation
The globalization of business increases the level of compliance risk companies face. From anti-bribery and corruption laws to sanctions regimes and PEPs, you need to stay alert to possible threats to your organization's reputation and bottom line. Check out the infographic below for a snapshot of what you face.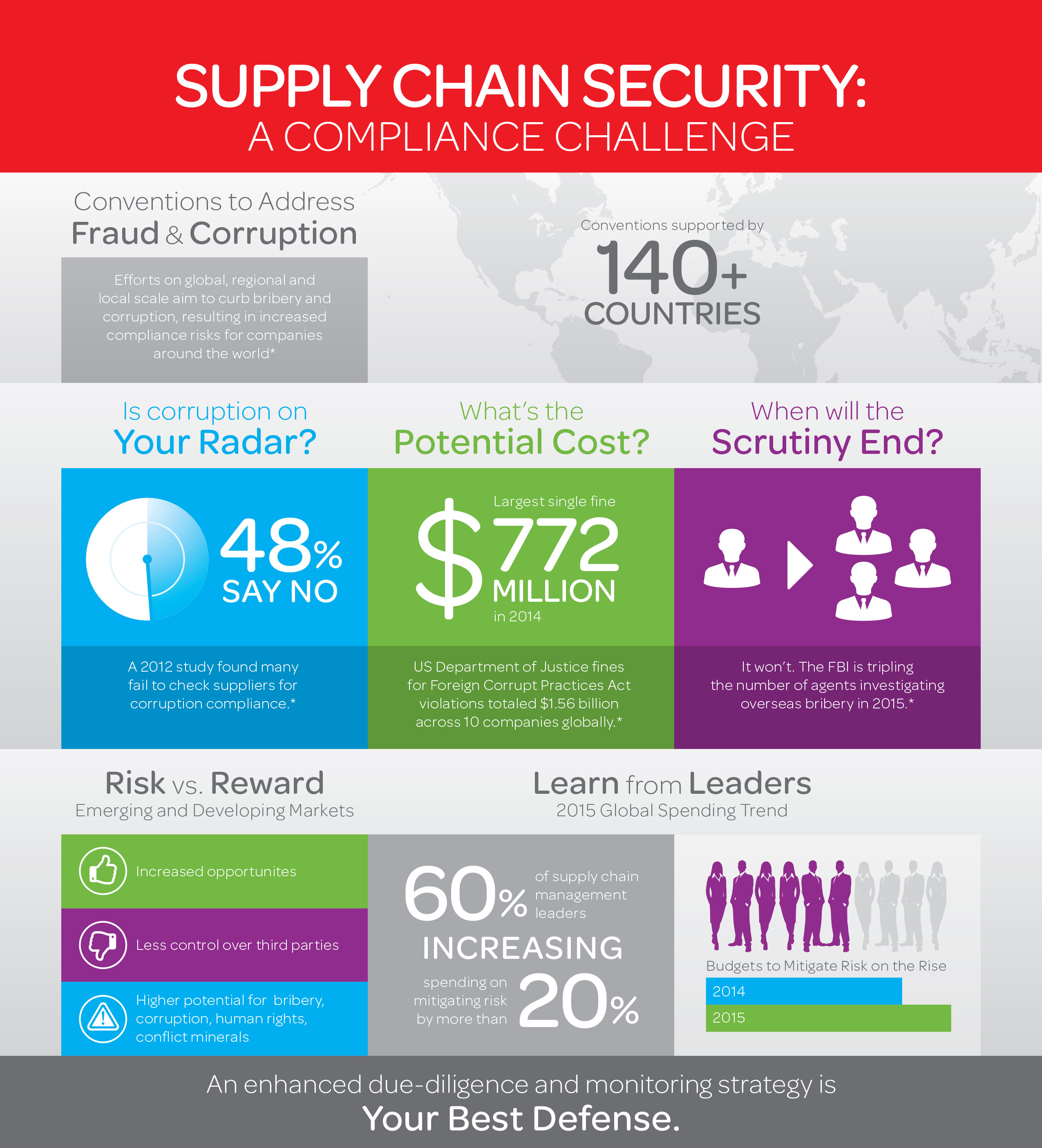 Want to dive deeper into the topic? Read on for a preview of the Procurement Leaders™ white paper, "Supply Chain Security."
Supply Management
Supply chain risk management is one of the challenges du jour for procurement chiefs globally, but when you look at the costs, both commercial and social, of corruption, malpractice and ethically unsound purchasing, it's clear that the future of business itself hinges on purchasers' ability to tackle the undesirable elements of conducting business.
Procurement can achieve this by establishing a governance and due-diligence framework to surround their dealings with suppliers, but also through gaining better insight into where the risks lie and how they can adapt to them.
In this whitepaper we look at the methods businesses are developing and the capabilities they have to fight corruption and remove unwanted activities from the supply chain. The opportunity is there, the question is whether business is ready to take advantage.
Compliance Challenge
In 2014, the US Department of Justice (DOJ) meted out fines worth a total of $1.56bn to ten companies around the world for infringement of the Foreign Corrupt Practices Act (FCPA). Among them was Alstom SA, a subsidiary of the French engineering giant, which was subject to a $772m fine.
The company was fined over its use of external sales consultants hired on a 'success fee' basis to support its commercial teams. Although Alstom says it has stopped the hiring of such consultants and has made progress in the area of compliance, the size of the fine acts as a warning to procurement chiefs to manage risk across the whole supply base, including third-party sales advisers.
"There were a number of problems in the past and we deeply regret that," said Alstom CEO Patrick Kron following the judgment. "However, this resolution with the DOJ allows Alstom to continue our efforts to ensure that business is conducted in a responsible way, consistent with the highest ethical standards."
At the time, US deputy attorney general James Cole said: "Alstom's corruption scheme was sustained over more than a decade and across several continents. It was astounding in its breadth, its brazenness and its worldwide consequences. This Department of Justice will be relentless in rooting out and punishing corruption to the fullest extent of the law, no matter how sweeping its scale or how daunting its prosecution."
The volume of legislation, and the tenacity of law enforcement agencies pursuing cases, is increasing. In January 2015, it was reported that the US Federal Bureau of Investigation's foreign corruption program would more than triple the number of agents focused on overseas bribery from ten to over 30.
Download the full white paper to learn about:
Various laws across the globe that you need to keep in mind when conducting due diligence
Lessons learned and best practices for supplier risk mitigation
How the right due-diligence process can help with vendor risk management
Get it now!