Nexis® Social Analytics & Reputation Management Tools
Nexis® Social Analytics (powered by Talkwalker) is a social media monitoring and data intelligence tool empowering brands and agencies to make business decisions based on social insights.
Priorities for online reputation management combine media monitoring, crisis control, sentiment tracking, campaign measurement, social listening and more to allow you to spot and prevent a potential crisis before it happens.
With real-time social media monitoring, never miss a conversation about your brand, products or competitors. You can identify patterns, follow trends, assess performance gaps and even track return on investment of your campaigns.
With efficient social media reporting you can now highlight successes and areas worthy of attention, and share insights quickly and easily across your organisation with those that matter most.
Drive your social performance with our superior social media analytics tool.
With Nexis® Social Analytics you can:
Effective brand reputation management comes from smart, proactive monitoring
LexisNexis' business reputation management solutions will keep you more informed, so you can make better decisions - faster.
Our company reputation management tools pull real-time data from over 40,000 sources that aggregate global news, industry trends, consumer behaviour, and more. Trust that you are making reputation management decisions based on the most recent information.

Protect and Track Your Brand Reputation
Track real-time and historical conversations involving your brand and your industry so you know when to act.

Conduct Thorough Brand Analyses
Dissect company information from any angle—location, sentiment, recency and more.
Nexis® Social Analytics gives you
One Platform to Leverage Social Data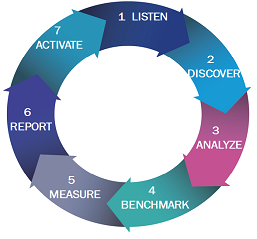 Benefits and other functions of Nexis® Social Analytics
Millions of social media messages are published around the world every second. Nexis® Social Analytics helps you extract the information that is important to you.
Measure the success of campaigns
A range of social KPIs enable you to set meaningful targets for your campaigns.
Identify important campaign metrics in real time.
Get reports quickly and easily with the reporting functions of Nexis® Social Analytics
Insights into your target group
Reach more of your target group with important information about the preferences of your audience.
With a deeper understanding of your customers' wishes you can reduce the risks associated with a new product or campaign.
Engage your target group in dialogue by speaking their language.
Comparison with the competition
Identify social best practices in your market by measuring relevant social KPIs.
Compare your performance with the industry standard.
Determine the level of brand awareness in your market by measuring your share of voice.
Improve the customer experience
Identify weaknesses and customer difficulties by analyzing the discussions and customer comments in social networks and public forums.
Improve your customer service on social networks by using filters and tags to sort customer feedback.
Use social KPIs for sentiment analysis to compare your social customer support.
Know your customers' behavior
Tailor your brand message to customer needs by learning what drives your customers' mood
Use sentiment and emotion analysis to refine your brand message and measure success.
Leverage data on social trends to develop products that your customers want.
Monitor and tackle potential crises
Be forewarned of potential crises in real time.
Monitor negative comments about your brand.
Prevent a crisis going viral by using Virality Map to keep track of things.
More effective content marketing to generate leads
Develop a relationship with your target group by identifying the issues and problems that matter to them.
Refine your strategy by pinpointing the right content and media for the best social engagement.
Identify influencers who can help you distribute your content.
Identify growing industry trends
Identify key trends by analyzing data going back up to two years.
Discover the factors that generate positive sentiment.
Network with powerful influencers in your sector.
Use the right influencers to spread your brand message
Improve your credibility by finding the right influencer for each campaign.
Use social KPIs to measure the success and ROI of your influencer campaigns.
Keyword research for effective campaigns
Use top hashtags and topics to maximize the interest of the social community in your campaign.
Always know what are the hottest keywords in your sector.
Use filter options to create targeted campaigns for particular regions and demographics.
Protect your online reputation
Respond more quickly to negative comments on social media.
Identify potential misuse of your company logo with our market-leading image recognition technology
Develop an effective reputation management strategy by remaining constantly aware of the emergence of new problems online.