Confidently determine case value and evaluate risk
Proceed or settle? Defend or Prosecute? The exclusive Lexis Medical Navigator® dashboard gives you quick access to the industry's largest collection of verdicts and settlements—70% more than you can get with any other legal provider*—along with convenient Q&A technology to help you evaluate the risk of prosecuting or defending a case.
Value your case with access to more than 1.2 million verdict and settlement documents. Content includes proprietary and licensed material from:
ALM®
JVRA
Mealey's®
LexisNexis® Expert Research on-Demand (formerly IDEX)
And more
Proven medical malpractice intelligence
Lexis Medical Navigator® analytics and visualization tools reveal relevant medical malpractice litigation trends.
Compare verdicts and settlements in different cases similar to yours.
Use the range of possible outcomes to guide case strategy and client counsel.
Get the specific case value assessment you need
To get started, select your medical topic, click Case Value Assessment, specify jurisdiction and click Submit Answer. Your question and answer session will appear on the left with a case value graph on the right.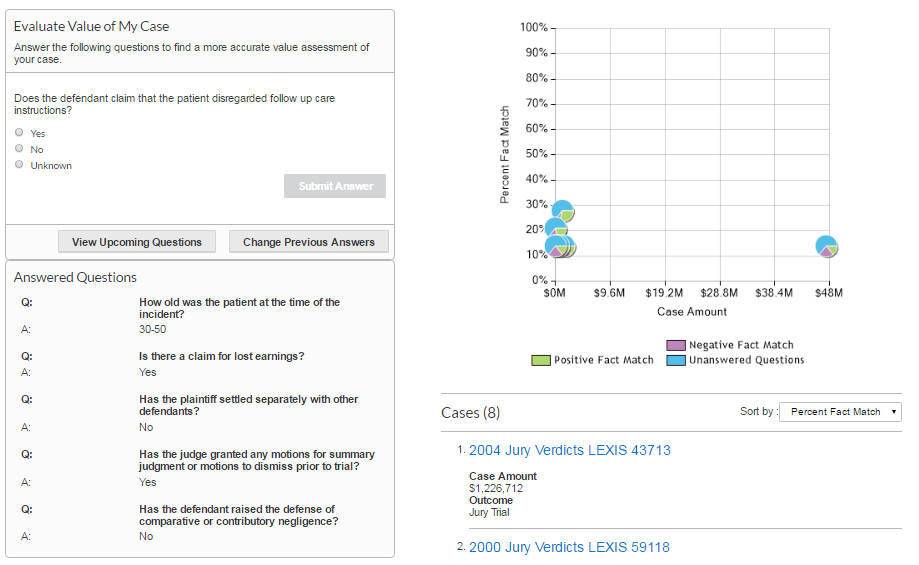 Circles plotted on the graph represent the dollar amounts of relevant verdicts and settlements.
As you answer more questions, the graph adapts to your input.
You can answer as many or as few questions as you would like.
Answer in any order and change answers later if you want.
Dig deeper for case insight
Just click on a case in the verdict or settlement list and go right to that document. Each document shows:

Case caption
Topic
Court
Counsel names
A case summary
Judge name, if applicable
Actual injury to the plaintiff
Length of trial
Expert names
A breakdown of the award
Find out more and get a free trial*
To contact us, complete the form below or call 888-AT-LEXIS.
LexisNexis, a division of RELX Inc., may contact you in your professional capacity with information about our other products, services and events that we believe may be of interest. You can manage your communication preferences via our Preference Center. You can learn more about how we handle your personal data and your rights by reviewing our Privacy Policy.
*Comparison data based on information available as of November 2018.