Legal Research
& Practical Guidance
Explore Real Differences that Deliver
Enjoy a clear, unobstructed view of all your legal research and transactional vistas. Use LexisNexis® tools and resources to find and validate case law and statutes, get experienced perspectives in specific legal practice areas, follow leading practitioners through treatises and online communities, track current news, trends and issues, and pull it all together to make smart, strategic decisions.
Find & verify primary law
How can you build your strategy on sound law? A first step is to find the most relevant case law and codes for your jurisdiction and legal practice areas. Headnotes and case summaries can help save you time and help you develop insight—as long as you know they are written using editorial discipline. And by using a proven resource for validating cases and statutes, you can be truly confident in your work. Plus, if you're working in transactional law, you can save time by viewing the most relevant cases and codes identified by leading practitioners.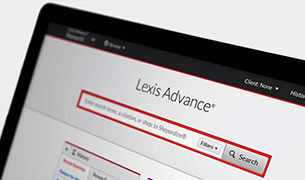 Advance beyond lexis.com® … get time-proven legal research tools in a clean, modern design. Conduct authoritative research, develop solid case strategy and perform effective transactional law. Straightforward tools help you find the precise information you need from federal and state cases and codes. Save time with legal case summaries and headnotes that reflect the holdings and language of the court. Find legal definitions, applicable burden of proof and standards of review. And analyze issues over time with our exclusive visual Legal Issue Trail™.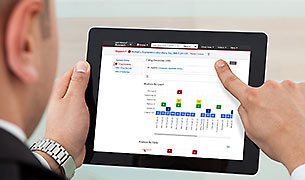 Find legal cases dealing with issues similar to yours, and ensure the authority you are using is good law. Experienced attorney-editors adhere to strict standards in developing Shepard's® validation and analysis. Easily Shepardize® cases, codes and more, then view the history of citing decisions in a map or grid format with Shepard's Graphical―a Lexis® exclusive. Unlike some providers that cover only negative treatments, Shepard's covers positive treatments with the analysis phrase "followed by," leading to additional support for your point of law.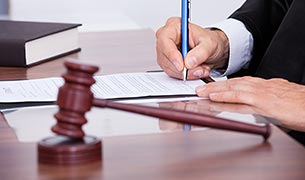 Get just the facts with the comprehensive LexisNexis® case-law collection. Expert attorney-editors read, analyze and summarize cases, faithfully following the lead and holdings of the courts. Plus, a modern topic digest built for the Web includes new and emerging areas of law.
Focus on practice areas & jurisdictions
Whether you're looking for case law, statutes, treatises or guidance from leading practitioners, it helps to focus on the jurisdictions and practice areas most relevant to your work. LexisNexis offers content organized for all 50 U.S. states, Washington, D.C., the federal government, Puerto Rico and the Virgin Islands, as well as more than 40 areas of practice. Plus, specialized tools help you build insight in practice areas like intellectual property and medical malpractice.
Consult top authors & practitioners
How can you develop specialized insight—especially in rapidly evolving and less familiar areas of law? Even experienced attorneys consult treatises by leading authors frequently cited by the courts. Deep perspective comes from law reviews, journals, analysis of emerging issues, newsletters, blogs, litigation documents and more. Transactional attorneys can also benefit from legal practice tools, analysis and guidance.
Track legal, news & business updates
Our legal and business landscape is constantly changing. How can you be among the first to know about new developments, analyze trends, gain insight and take action? Explore convenient online tools that help you track case law, validation, legal news, business issues, court records, legislative and regulatory developments, securities news and more.
White Paper: The high cost of "free" news
If you rely on the "open Web" and tools like Google Alerts® for your must-have news and business coverage, you could be missing vital information. Read our "Monitoring the News" White Paper to learn more.
Read the white paper
White Paper: "The Game of Rules"—the importance of monitoring government regulations
Every time you think you know the rules—they change. Learn how you can take a proactive and forward-looking approach to keeping up with the speed of regulatory changes today.
Read the white paper
LexisNexis® Legal Newsroom
Get fast access to today's top legal headlines—breaking cases, rulings and more. Plus expert commentary and analysis you won't find anywhere else.
Top Legal News Headlines
Over 9,000 state & federal agencies—and only one of you?
Each day agencies churn out thousands of new proposals and regulatory changes. That's why countless law firms, compliance and government affairs professionals count on LexisNexis State Net. Find out why.
Use search results in drafting & strategy
You have your legal research results … but how can you put your insight to work in documents and case strategy? Stay organized with convenient online folders for your research, plus legal forms, checklists and other efficiency tools. You can even integrate your research and validation with Microsoft® Outlook® and Microsoft® Word—as well as your own internal documents.
Lexis® for Microsoft Office®: Make the most of your time and tools
Shepardize® citations—without leaving your Word document. Profile companies or key parties—from within your email. Less time spent jumping back and forth between your email, word processing and online legal research tools means greater efficiency. Only Lexis for Microsoft Office brings these must-have resources together in powerful, productive new ways. Seeing is believing.
Connect key facts to build insight
With so much data at your fingertips, how can you connect the dots and draw sound conclusions? Whether you're building a legal case, making a deal or handling a matter, easy-to-use tools can help you assess risk and identify fact patterns vital to your strategy. You can turn facts into intelligence and insight into action.
White Paper–Six Critical Tasks for Medical Malpractice Cases
Medical malpractice cases can be complex, confusing and costly. But, by implementing the right tools and performing six essential tasks you can bring order to your medical malpractice cases—and increase your chances of winning.
Read the white paper
Case Study: Lexis Medical Navigator™—virtually pain-free medical malpractice research
Clore Law Clore Law Group says benefits of Lexis Medical Navigator™ make it a no "no-brainer" –and must-have tool for end-to-end medical malpractice research. Find out why.
Read case study
A day in the life of a litigator
You start your day early and end late. Your litigation research needs are vital and varied. From tracking the latest filings, to assessing potential outcomes and researching key case players, you need litigation research tools as fast and agile as you are.
See details
Choose from eBooks, print, online, mobile & more
Where do you work? How do you work? Today it varies from person to person—and sometimes moment to moment. Whether you're at your desk or on the go, you can get flexible content delivered your way with streamlined, integrated tools for online legal research, as well as authoritative print titles, a wide range of up-to-date eBooks, a Digital Library solution and mobile tools to help you succeed from anywhere.
LexisNexis eBooks: Master the art of "on-the-go"
On a plane, in court, anywhere you go, LexisNexis eBooks go with you. It's the same trusted, insightful and interconnected content—only portable. Discover the flexibility and freedom of untethered access to critical content—anytime, anywhere
View demo
Build your digital library
Browse our extensive library of available eBooks. Titles organized by jurisdiction, practice area and more.
Available titles
Take a byte: Sample an eBook—risk-free
Select from from a variety of titles—available in multiple formats so they can be read across a wide range of tablets and eReaders.
Download sample