Lexis® for Specialized Law Firms
With the Lexis® service for specialized lawyers, work more efficiently, improve advice quality and add more authority to your position.
Practicing specialized law, you'll inherently have limited resources. This can impede your firm's growth, limit your ability to obtain new clients and decrease your efficiency. Without the right specialized legal resources to meet these challenges, you'll constantly feel overwhelmed, overworked, and overcapacity. To counter these issues, trust the Lexis service—the ultimate legal research tool for specialized lawyers.
The Growing Need For Specialized Legal Resources
In specialized law firms of less than 50 attorneys, uninterrupted legal research is simply unrealistic.
Time must be dedicated to attracting and retaining clients who need attorneys with law specializations, running the firm and managing finances. The increased competition for your attention inevitably requires greater efficiency in the actual practice of law.
Lexis is the perfect legal research tool for specialized lawyers who wear multiple hats. Why? Because the solution-oriented nature of the Lexis service addresses the pain points faced by specialized law firms, particularly those with static resources and manpower.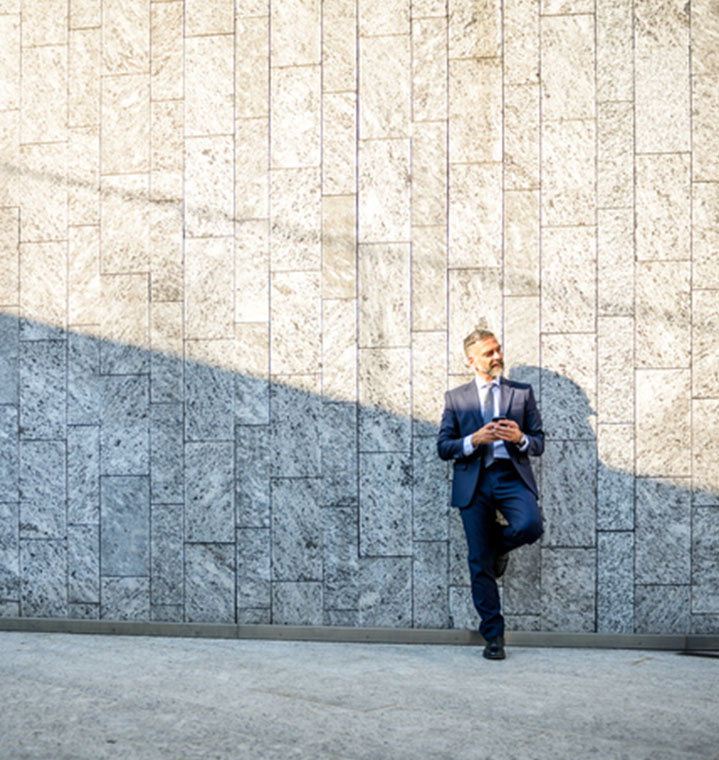 Lexis Addresses Challenges Facing Specialized Law Firms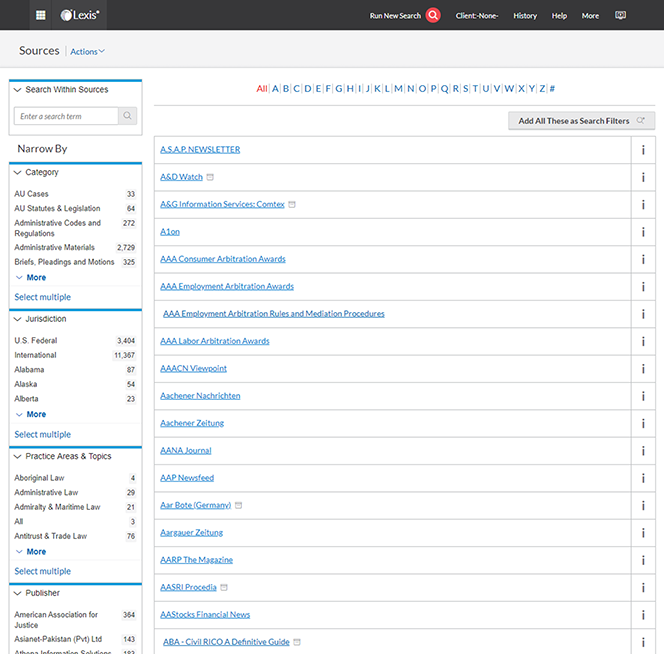 Expand the knowledge resources at your fingertips
Law specializations inherently lead to a depth of knowledge, but that doesn't mean you have to sacrifice learning new areas that can increase your client base. With Lexis, gain access to more than 60,000 legal, news, business and public records sources, including premium sources you can't find anywhere else. Your work can venture beyond current specializations into unfamiliar areas of practice, which is why the Lexis service has you covered.
Simplify your search methods and focus on advice quality
Specialized lawyers are in the trenches—digging through precedents for the best insights. With Lexis Answers™, your small team will cover more ground faster with fewer searches. It uses revolutionary AI to anticipate your research path, curating and delivering the most pertinent results.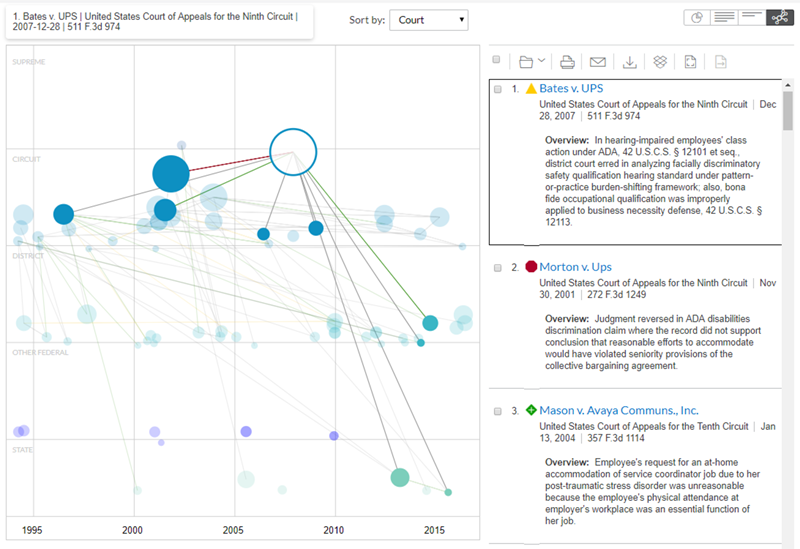 Quickly spot legal trends
With the specialized legal resources found within Lexis, spend less time finding relevant cases and more time building a winning case strategy. Discover how top cases in your search results cite each other—and how they can work together to bolster your position. The Ravel™ View feature harnesses powerful visualization tools, so you can leverage the best precedent for your case.
Bring clarity to big data
With Search Term Maps, color is used to highlight search terms. Quickly review search results screens and lengthy cases with Search Term Maps and you'll be able to accurately gauge whether reading the case is relevant to your search intent. Use the Search Term Location Bar on results screens and in full-text cases to move quickly among the most relevant passages of the case, from headnotes through the opinion. Specialized lawyers acting as the sole legal counsel for a client need to consume and digest immense amounts of case law in a short span of time. Let Search Term Maps color the direction forward in your legal research.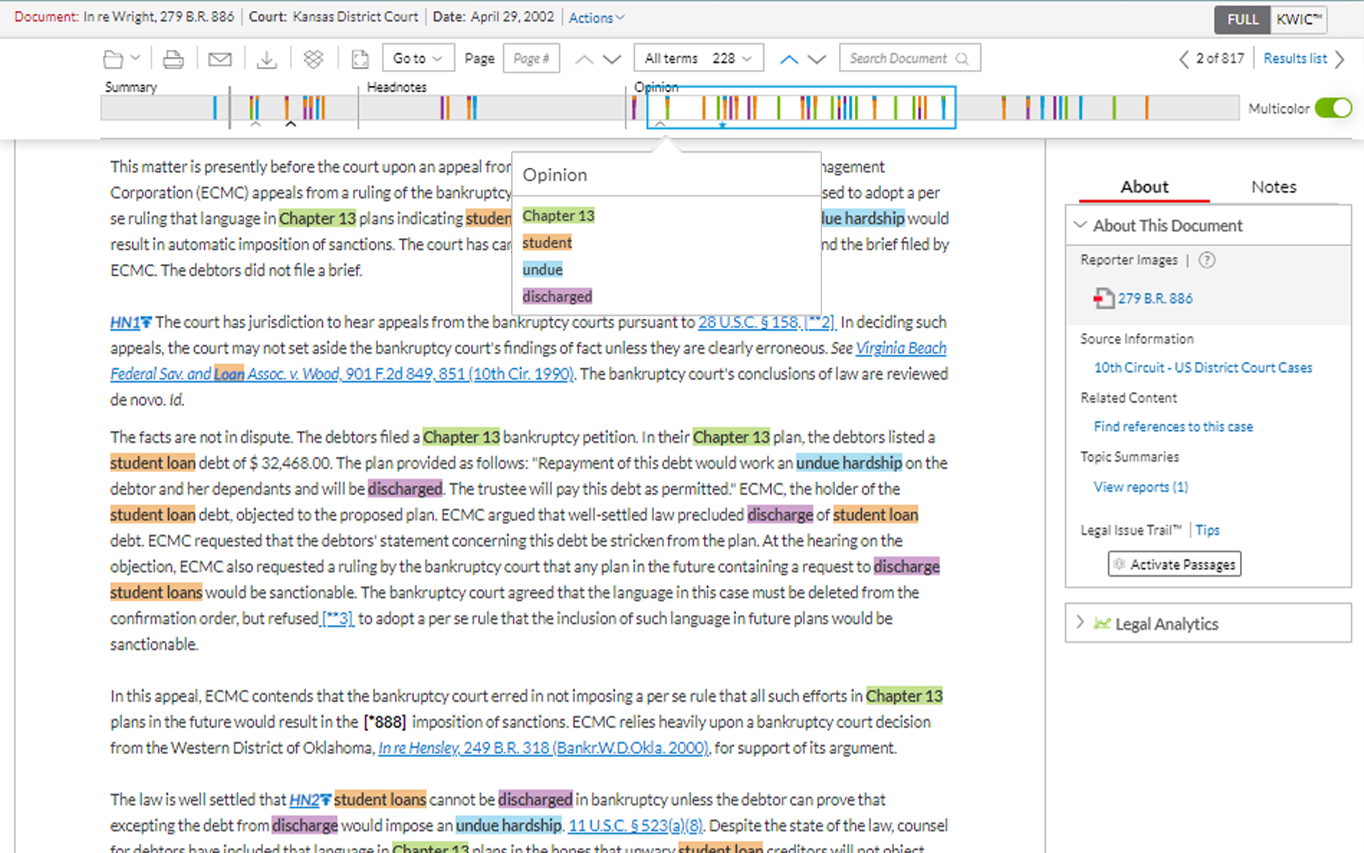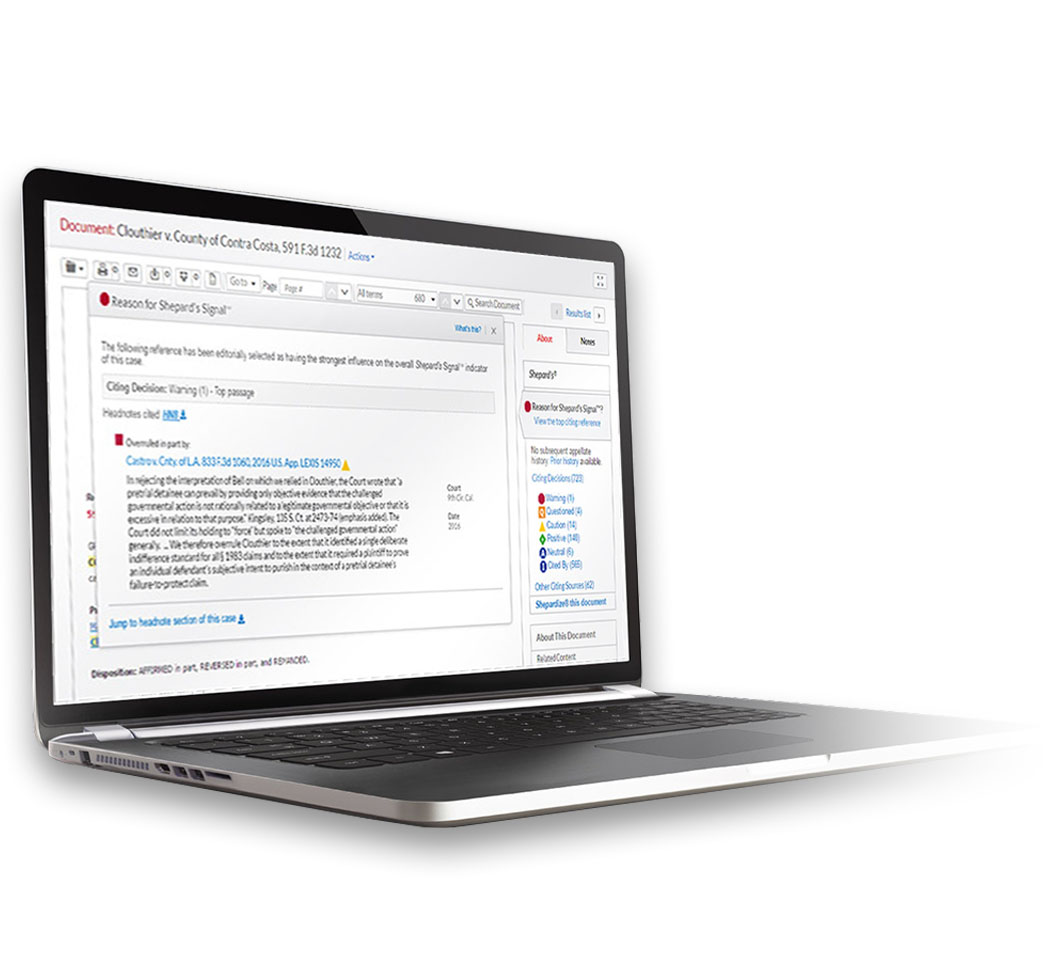 Add more authority to your position
With Shepard's® Citations Service, you can count on the market-leading citator for comprehensive cite analysis. Unlock a full spectrum of editorial analysis that includes negative and positive treatments, so you can find support to build your persuasive arguments faster than ever. Shepard's offers previews into editorial treatments right on full-text cases and even includes exclusive Shepard's Signal™ indicators on headnotes so researchers can quickly find the most relevant points of law. Specialized lawyers get to the deeper insights they need—with maximum efficiency.
The Ultimate Solution For Obstacles Facing Specialized Law Firms
As a specialized law attorney, stay on top of your caseload and a step ahead of the competition with Lexis. Investing in a legal research tool with robust content, trusted citation services and exclusive features is the simplest and most effective solution to the challenges facing specialized law firms.
This industry-leading legal research software is the difference between mediocrity and excellence—so why limit the potential of your specialized law firm? Increase client satisfaction, enhance your firm's reputation, scale growth and become more efficient with the Lexis service.
Check out more features or start a free trial today!
Finished exploring? Start experiencing.
You've seen just a few of the real differences across our content, innovative tools and leading-edge legal technology.
Now let's talk about how we can best apply those differences to meet the distinct needs of your organization.
LexisNexis, a division of RELX Inc., may contact you in your professional capacity with information about our other products, services and events that we believe may be of interest. You can manage your communication preferences via our Preference Center. You can learn more about how we handle your personal data and your rights by reviewing our Privacy Policy.