Lexis® Flexible Search Options

No matter where your research takes you
Lexis® is the right choice to bring you the right results.
New legal matter? Researching an ongoing topic? Search your way with confidence. Lexis delivers flexible search options aligned with the way you want to work. Search broadly or go right to a favorite source. Narrow your search up-front or further down the road.
Get on-point, authoritative information—fast.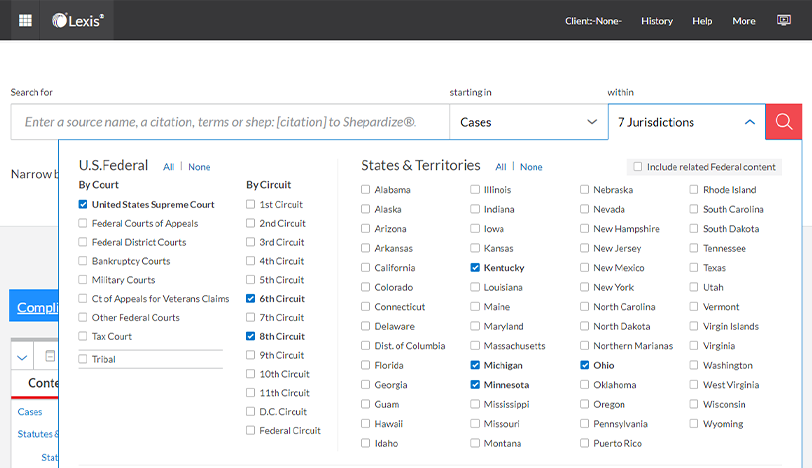 Choose your research path
Start with our simple, but powerful Red Search Box.
Know your citation? Enter it and go right to a specific case, administrative document, legislative document, etc. You can even Shepardize® from here.
Want to see a range of possibilities? Enter a natural-language search to cast a wide net, drawing from vast, unmatched Lexis content.
Know exactly what you need? Enter a precise search using Boolean terms and connectors.
Search filtering
You can even pre-filter your search to just the specific jurisdiction, practice area or category you want before you begin. Or if you prefer, you can wait and filter results after you search.
With Lexis you can apply unlimited pre-search filters. Use as many as you want to get to the results you need.

Explore Content & Advanced Search
Our Explore Content feature is another great source-selection option. Explore Content puts all your favorite sources and content types up-front.
After you've drilled down to your source, our Advanced Search feature can build a precision search query for you using a content-specific form—one of more than 50 Advanced Search forms available via Lexis.

Staying with our Employment discrimination scenario, see how simple it can be to search EEOC decisions.
Black letter law in
vivid color
Lexis® Search Term Maps show you—in color—search terms patterns and clusters in large results sets and throughout every case.

The right results for inspired Insights
With Lexis you can be confident that you're getting the most comprehensive, consistent and absolutely on-point results. Today's Lexis enhancements offer distinct advantages over other research platforms—significant search differences that deliver the right results and a
real competitive research edge.
Finished exploring? Start experiencing.
You've seen just a few of the real differences across our content, innovative tools and leading-edge legal technology.
Now let's talk about how we can best apply those differences to meet the distinct needs of your organization.
LexisNexis, a division of RELX Inc., may contact you in your professional capacity with information about our other products, services and events that we believe may be of interest. You can manage your communication preferences via our Preference Center. You can learn more about how we handle your personal data and your rights by reviewing our Privacy Policy.