Ask Our Authors
Practical Guidance. Insights to Support the Work You Do.
Practical Guidance offers you the collective insights of practicing attorneys, including former in-house counsel, to support the tasks on your desk today. Get started with insights from our trusted team. Make no mistake. We are focused on the practical.
Do you have questions about the information that you find in our product? Expertise is always available as part of your subscription with our "Ask Our Authors" feature†
Conveniently located in the task bar at the top of Practical Guidance
Access our team of attorney-editors, anytime—you can usually expect an answer within 24 hours
Get answers to questions about guidance, checklists, emerging issues and more
†"Ask Our Authors" feedback and responses (collectively "Feedback") are not intended to and do not constitute legal advice and no attorney-client relationship is formed. The accuracy, completeness, adequacy or currency of the Feedback is not warranted or guaranteed. This feature is limited to Practical Guidance subscribers only.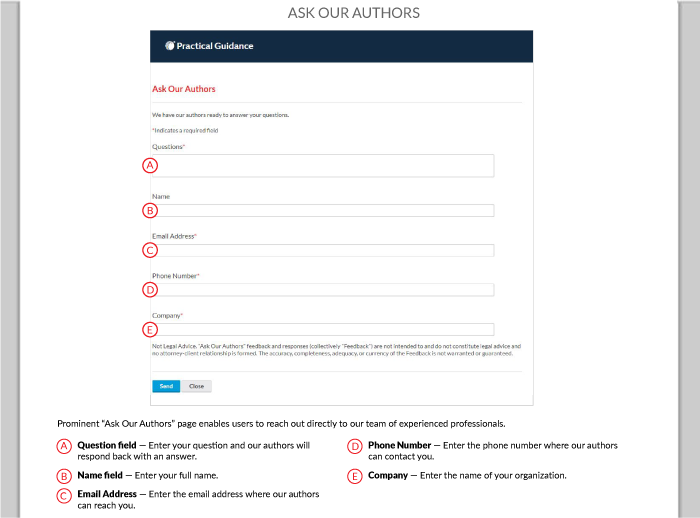 Let's get started
Contact us by completing the form below. If you need immediate assistance, please call 888.AT.LEXIS
LexisNexis, a division of RELX Inc., may contact you in your professional capacity with information about our other products, services and events that we believe may be of interest. You can manage your communication preferences via our Preference Center. You can learn more about how we handle your personal data and your rights by reviewing our Privacy Policy.